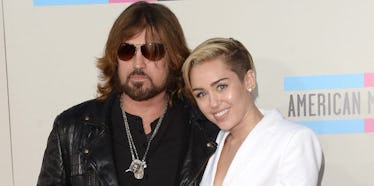 Billy Ray Cyrus Shares What He Really Thinks Of Miley Cyrus' Song 'Malibu'
Getty Images
Miley Cyrus will take the stage on Sunday, May 21, to perform her new single "Malibu" at the Billboard Music Awards.
If you've heard the hit, you know it's an ode to her fiancé Liam Hemsworth and the love they've shared over the past few years.
"Malibu" has only been out for about a week, but it's already at the top of the charts — it even became Miley's first Hot 100 appearance since 2014.
Fans are clearly eating it up, but they're not the only ones loving Miley's new music. Her father, Billy Ray Cyrus, can't seem to contain his excitement as well.
Elite Daily had the chance to speak with Billy Ray on Saturday, May 20, at the T-Mobile Arena's Radio Row. Billy Ray stopped by Xfinity's booth to chat it up and dish on what he really thinks of his daughter's new music.
When asked how he feels about "Malibu," Billy Ray told Elite Daily,
I love 'Malibu' and Miley's album… When I listen to it, I hear a lot of her roots. I hear a lot of the influences that I heard her playing as a little girl... you know, that she would… back in the day, maybe put on a CD as we were driving back and forth to the set of 'Hannah Montana' and she would be playing, you know, Eddie James and Johnny Cash... and all these great artists that a lot of kids at that time weren't listening to… I hear a lot of those influences in what she's doing now, and I'm loving it.
He continued,
It's great – you know, it just feels very real to me. This album is very honest and very real.
Billy Ray also spoke with us about what it's been like for him to watch his youngest — Noah Cyrus — transform into the musical artist she has become. He said,
Noah has always been what you call a very old soul... When you talked to her as a little girl, there was something about her spirit – it was like she knew things that, and would talk about things that other girls her age didn't talk about… the depth of humanity and the purpose of life and she always loved music… and I think she has found her calling. This music, what she's doing now, every road, every turn, every stop, every go on Noah's journey has led to this moment, and I think she's not only really prepared for it, she was born for this moment and she loves the music. She's as happy as I've ever seen her.
Noah Cyrus took the stage at the MTV Movie & TV Awards on May 7 to perform her new single "Stay Together."
The 17-year-old artist has clearly come a long way and is following in her older sister's footsteps.
Overall, it's clear Billy Ray is extremely proud of both his daughters. He added,
To me as a dad, whether it's Noah or Miley or any of my family, I just wanna see everybody happy and do what they love. The music is a big part of their lives and in our world.
Right on, Billy Ray. Couldn't have said it better myself.
The 2017 Billboard Music Awards will broadcast live on both coasts from the T-Mobile Arena in Las Vegas on Sunday, May 21, at 8:00 p.m. ET/5:00 p.m. PT on ABC.
Be sure to follow Elite Daily on Snapchat (EliteDailySnap), Twitter and Facebook for live coverage all night long.