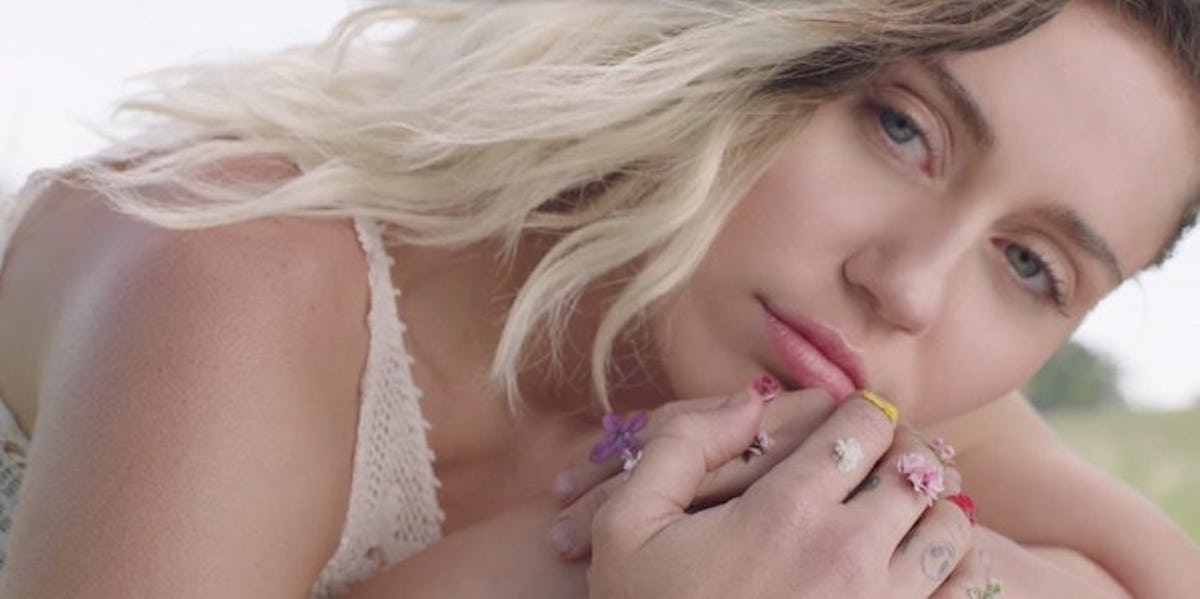 Miley Cyrus Dropped Her Song 'Malibu' About Liam Hemsworth And It's So Romantic
Vevo
On Thursday, Miley Cyrus dropped her highly anticipated new single "Malibu," along with the music video.
We already knew the song is about her fiancé, Liam Hemsworth, but we finally get to hear (and see) exactly how she feels about her man. This is a very different Miley from her "Wrecking Ball" days, and you won't be able to stop watching.
It definitely sounds like she and Liam are better than ever. She's even back to wearing her engagement ring in the video. Let's take a closer look at some of the lyrics.
"But you brought me here, and I'm happy that you did/ 'Cause now I'm as free as birds catching the wind"
"But here I am, next to you/ The sky's more blue in Malibu"
"You would explain the current, as I try to smile/ Hoping I just stay the same, and nothing will change/ And it'll be us, just for a while"
"And I wanna thank you with all of my heart/ It's a brand new start/ A dream come true in Malibu"
In a recent interview with Billboard, the 24-year-old opened up about her new music and the big changes she's making in her life.
Speaking on the new romantic single, Miley said,
They're going to talk about me if I come out of a restaurant with Liam. So why not put the power back in my relationship and say, 'This is how I feel'?
In terms of changes, the former "Hannah Montana" star is giving up smoking weed and drinking, at least for now. She said,
I like to surround myself with people that make me want to get better, more evolved, open, and I was noticing, it's not the people that are stoned. I want to be super clear and sharp, because I know exactly where I want to be.
Part of where she wants to be is in the studio. "Malibu" is the first single off her still untitled upcoming album.
Of her new music, her dad, Billy Ray Cyrus, told Billboard,
This is Miley leaning into her roots more than I've ever heard. For her, this is honest.
This public declaration of her love for Liam comes after their breakup back in 2013. Talking about their break, she told Billboard,
I needed to change so much. And changing with someone else not changing like that is too hard. Suddenly you're like, 'I don't recognize you anymore.' We had to refall for each other.
Based on "Malibu," I think it's safe to say they've refallen for each other.