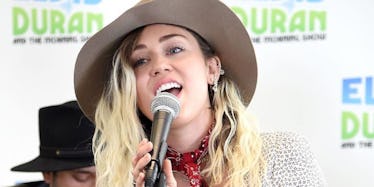 Here's Everything We Know About Miley Cyrus's New Album
Getty
Miley Cyrus is going a whole new direction with her upcoming album. The singer shocked fans earlier this month when she released its lead single Malibu, a romantic, soft rock departure from Miley's recent psychedelic, hip-hop-inspired records.
While we still don't know the name of the upcoming album, most fans are assuming Malibu is indicative of the sound of the whole record, suggesting Miley will be toning down the synth hip hop of 2013's Bangerz and the trippy psychedelia of 2015's Miley Cyrus & Her Dead Petz for a more mainstream, top 40 pop-rock sound.
Billboard is already comparing the new direction to Lady Gaga's recent country-tinged album Joanne, which saw the likewise experimental, booming-synths pop star opt for a less aggressive, more mainstream sound.
So when can we expect Miley's Joanne?
There's still no official word on the release date, but we can speculate it will likely come in the late summer or early fall based on past releases. Major pop artists like Miley often follow a schedule for their album drops: she released Bangerz in early October 2013, and two years later came Dead Petz at the end of August 2015.
The two-year mark for this album to drop would be sometime around September, so the best bet we have for when to expect to the album would be around then.
Another thing we're still cloudy on is the tracklist, although we do know about one other song besides Malibu that will show up on the new record. Miley appeared on a radio show and revealed there's a song called Inspired on the new record that she compared to her 2009 just-ending-Hannah-Montana power ballad "The Climb."
There's a song on my next album — I probably shouldn't say it — but it's called 'Inspired,' and I was kinda saying this is my new, older 'Climb' for me.
We may not know much about the new Miley album yet, but she is performing at the Billboard Music Awards this weekend, so maybe we'll hear a new song or find out the album title!