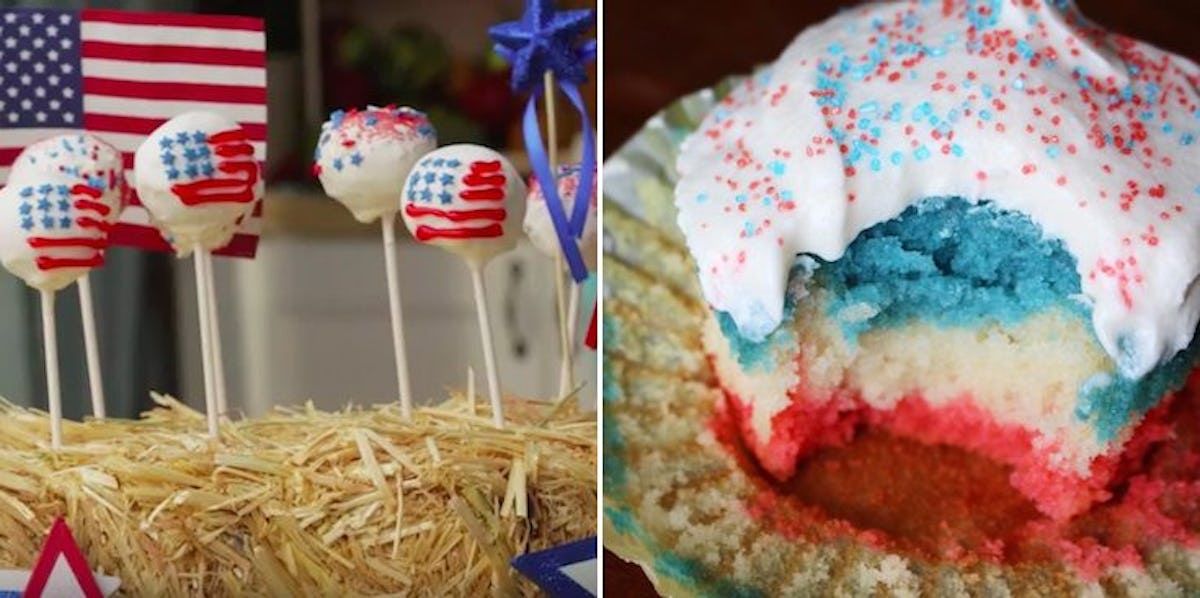 7 Mouthwatering Red, White, And Blue Desserts That Are Easy To Make For MDW
YouTube/Instagram
When it comes to throwing the ultimate Memorial Day Weekend bash, you simply cannot skimp out on dessert.
It's the last phase of your party, but certainly no less important... especially if each member of your squad has a major sweet tooth. Keep the party going with a yummy dessert spread that will impress the heck out of all of your guests.
Here are seven Pinterest-perfect, patriotic desserts that will be the cherry-topping to your Memorial Day Weekend party.
These delicious, patriotic cupcakes make for the ultimate combination of moist and fluffy. In case your mouth wasn't already watering, these treats feature white coconut frosting, strawberry syrup drizzle, and a blueberry to top it all off.
You can really go any route with these cupcakes. If you're not about those blue velvet vibes, stick to vanilla, chocolate, or tie-dye, and decorate with red, white, and blue frosting and sprinkles. Don't forget festive cupcake wrappers, too.
2. Cherry Pie Tartlets
These little sugary tartlets are absolutely adorable, and super easy to whip up in your kitchen.
Your guests will savor each and every bite of this recipe, which spotlights homemade cherry pie filling and lemony cream cheese.
3. Red, White, And Blue Dessert Nachos
This sweet treat is delicious, simple, and your guests will absolutely love it.
All the recipe calls for is prepping the star-shaped cinnamon sugar chips and topping them off with fresh fruit and vanilla yogurt (or whipped cream, if that's your thing).
4. Patriotic Crumble Cake
Who wouldn't love savoring some red, white, and blue crumble cake on Memorial Day Weekend? Serve each guest their share in mason jars or clear plastic cups to make for an extremely Instagram-worthy treat.
5. Patriotic Star Ice Cream Sandwiches
These ice cream sandwiches are a refreshing way to end your summer barbecue on a sweet note.
If you're an ambitious baker, you should definitely try your hand at that awesome star shape. But they're sure to be just as much of a hit at your party if you decide to ditch the star-shaped cookie cutter and make them round!
This rich, creamy masterpiece is the prime addition to your dessert spread for MDW. Its blueberry Jell-O base, cheesecake center, and fresh berries on top will definitely satisfy a sweet tooth.
7. American Flag Cake Pops
Cake pops are always a good idea… especially when they're decorated with stars and stripes. For a picture-perfect look, arrange these babies on a platter with an American Flag napkin underneath.