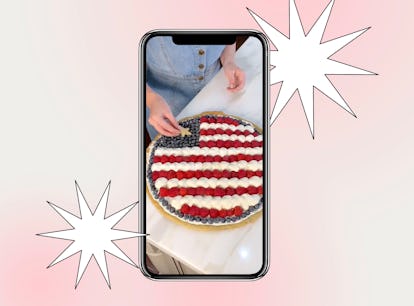 15 Memorial Day Recipes From TikTok To Upgrade Your Barbecue
You're going to flip over these grill recipes.
TikTok/Elite Daily
While it's not the official start to the season, Memorial Day always feels like the beginning of summer. Many people decide to celebrate the holiday with their first backyard barbecue of the year. If that's actually how you're choosing to honor the day, you'll want some Memorial Day recipes from TikTok to add to your menu. Grilling up some burgers and hot dogs is a given, but you want your spread to have more than just some main dishes.
From appetizers and desserts, TikTok has got your back. In fact, this list of Memorial Day grill recipes includes some casserole recipes and ideas for alcoholic punch as well to serve as you and your besties hang in the backyard or lounge by the pool. Along with recipes, TikTok is full of kitchen hacks and foodie tips, so you know there's a few grill hacks here as well.
Basically, whether your Memorial Day plans are to have a big bash with your BFFs or keep it simple with a picnic in the park, you're sure to have something tasty to serve thanks to these 15 easy-to-follow TikTok Memorial Day recipes and grilling ideas.
This article was originally published on