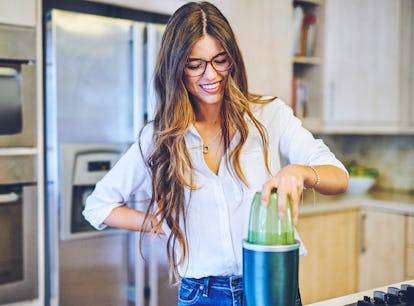 Try These Green Goddess Salad Recipe Hacks From TikTok
Even Lizzo's got a twist on the viral recipe.
Charday Penn/E+/Getty Images
The green goddess salad, similar to salmon rice bowls and baked feta pasta, has reached viral TikTok recipe status. If you're on the foodie side of the video-sharing app, you've likely seen a few people try this vibrantly green salad. Before you make it at home, though, you should also check out the TikTok green goddess salad recipe hacks to make sure you're making it as delicious as possible. The original green goddess salad recipe, which was made popular by Melissa Ben-Ishay of Baked By Melissa, has been taste tested by many who have decided to spice things up with a few extra ingredients or substitutes.
You never know, you may actually prefer some of these new green goddess recipes more than the original. Of course, you should know how to make TikTok's green goddess salad recipe the Baked By Melissa way first. For the salad base, you'll need the following ingredients:
Diced green cabbage
Diced cucumbers
Thinly sliced scallions
Once that's ready, you'll want to blend together your green goddess salad dressing, which includes the following ingredients:
Two cloves of garlic
One shallot
Juice of two lemons
Chives
1/4 cup olive oil
A splash of rice vinegar
Walnuts
Cashews
Basil leaves
Spinach
Nutritional yeast
Salt to taste
Once it's mixed all together, you can enjoy with your choice of chips as a dip. This salad is great for movie nights or just to snack on while working. So, check out these TikTok green goddess salad recipe hacks to find the one you love the most.