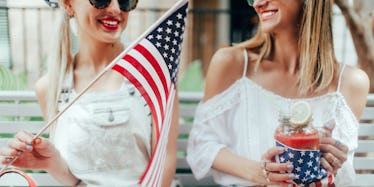 4 Reasons There's No Place Like Home For Fourth Of July Celebrations
Kayla Snell
It's safe to say there is no place like home, especially when it comes to holiday celebrations. But, on the Fourth of July, home radiates a special sense of comfort.
Whether it's all your friends coming back together or just hanging around at parties with the families you grew up with, no feeling compares to coming back home and being with the people you've known your entire life in a place you'll never forget.
No matter where you're living or who you're around, there's no comparison to coming home to celebrate with them. Here are the reasons why:
There's no place like home. It's as simple as that.
After going off to college, or even just moving away and experiencing a completely new setting with different people, home becomes even more special.
You look forward to seeing the familiar surroundings you grew up in and the same faces you grew up with.
You count down the days to going home, even if you are completely in love with where you're living life now.
You reminisce about your oldest memories, which just fuels your desire to get back to the place you know best.
Celebrating with the people you grew up with vs. celebrating with people you've only known for a few years.
Remember all those silly traditions and games you and your friends had when you were celebrating in high school?
Those things you try to teach or explain to your newer friends, but they just don't quite get it?
Those are the things that make celebrating with old friends and family incomparable to anything else.
That's what makes coming home and spending time with the people you grew up with so special.
No one will understand the constant videotaping when you whip out a GoPro, the same phrase you repeat over and over throughout the night or even just the simple, silly dance moves like your oldest friends do.
No matter how long you go without seeing your friends, you know as soon as you are all together celebrating, everything will fall right back into the ways of the past.
You're surrounded by your favorite foods.
Whether it's buffalo chicken wing dip, strawberries and marshmallow fluff, or just simple cheeseburgers and hot dogs, you know that no matter what, you will always come home to those certain party foods.
"Don't come without [blank]!" or "Bring [blank]!" were always phrases you and your family and friends exchanged growing up, and to this day, it's not uncommon to hear them.
All your life, you grew up with party food favorites, and even now, you still get excited to hear they'll be making an appearance at the parties you're attending.
You get to revive traditions.
From waking up early and going to your town's parade to having a big cookout with your friends and heading over to the fireworks show, there are things you did every single year and will continue to do in years to come.
It was always weird if you didn't wake up earlier than you wanted to just so you could go to the parade and sit with your family and family friends.
And, if you didn't go to a cookout with your friends and walk to the fireworks show together, it didn't seem like you were doing Fourth of July "right."
Coming back and getting to relive all those traditions year after year makes counting down the days to the holiday even more worth it.
It's definitely true that holidays are best spent with the ones you love, but those people are all over the place.
They could be across town, across your state or even across the country or the world, so celebrating with those you love can be done anywhere you want.
But, that's what makes celebrating at home so special. The traditional Fourth of July activities spent with those you grew up with and consider to be part of your family in the place you know best really just doesn't compare to anything else.
No matter where you are in your life or who you are with, it's safe to say Fourth of July celebrations will always be better at home.