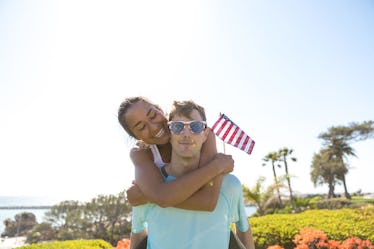 7 Fourth Of July Traditions To Start With Your Partner Now & Continue Forever
On the Fourth of July, the entire day you anticipate seeing those sparks soar in the sky and the people you get to enjoy them with. For you, your favorite spark is the one you have with your bae. If things are getting serious — or already are — you aren't a fool to think about Fourth of July traditions to start with your partner that'll only get better each year.
Think back to the first Fourth of July you spent with your SO. Maybe you were nervous or couldn't get the butterflies in your stomach to calm down. You still have those butterflies, but you've grown to be so open and carefree with your SO these days. And I mean, the Fourth of July is about celebrating the red, white, and blue, so you might as well get creative with bae.
You never know, these traditions may not only involve just the two of you someday, if you catch my drift. Your boo is also your favorite turn-up partner, and any plans made with them always end up being more fun than you originally intended. You can adjust these to align better with you and your other half, but these seven traditions are a decent start for your festive fun.