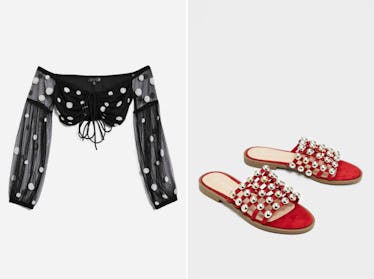 These July 4th Outfits Work With The Jeans You Already Own & Will Turn You Into A Total Firework
Topshop
The summer day during which friends and family come together to eat barbecue, set off fireworks, and celebrate our country's freedom is once again upon us! If you're stuck on what to wear for the festivities, fear not — the below Fourth of July outfits with jeans are as cool as they are patriotic. In my opinion, one should never has to sacrifice style for theme... who's with me?
I've loved celebrating the Fourth of July since I was a little girl. My family would all get together at our house and have water gun fights, make fresh hand-cranked ice cream, eat burgers, and enjoy displays of crackling pyrotechnics. My sister and I would always head to Old Navy before the big day to get matching festive shirts emblazoned with the American flag, which I remember being an exciting treat. My enthusiasm for the holiday hasn't waned but my style definitely has. Nowadays, I still like wearing red, white, and blue in true festive nature just not in a super outwardly Go USA!!! way. (Flag motifs are not my thing.)
Instead, I typically wear blue jeans or jean shorts, a shirt that's red and/or white and/or blue, and matching accessories. Patriotic, but not overly so. Below are five outfits I'm pondering over for this year's celebrations and they range from chill and sporty to stylish and party ready. Pair them with any pair of blue denim bottoms and you'll have an ace look.
Baby, You're A Firework
This look is for those of you going to a slightly dressier affair. Silver accents and star motifs add to its festive appeal, while a red lip would really make it pop.
Stars, minus the stripes. These tiered drop earrings are the perfect subtle way to show your American pride while also adding some major glam to your look.
This shirt is everything! Its little white embellishments remind me of firework explosions while its silhouette is decidedly Bardot-inspired.
I love these silver sandals for their snakeskin finish and low heel. They pack a punch but won't leave you with insane blisters.
Conscious Effort
The Fourth of July is a day to remember what core values our country was built on: liberty, justice, independence, equality, democracy, compassion, and more. It seems that many of these values aren't being upheld today as they should be, so why not make a political statement with your style and encourage people to get involved in issues they care about to truly help make America great? You never know who your statement tee might inspire!
These cool wrapped hoop earrings look like little pieces of wearable art and add a kick of red to an otherwise neutral look.
Counteract Melania Trump's "I Really Don't Care. Do U?" jacket with this "Give A Damn" tee.
And for practicality and cuteness' sake, throw on this patriotic woven bag complete with a pom pom bag charm.
Out West
Channel your inner glam cowgirl (this is now a thing) and opt for a Western-inspired look.
Western, but with a retro twist! These red cat eye sunnies are timeless and epitomize American style in the '50s.
Thanks to it's ruffle, button-up silhouette, and rodeo queen-esque style, this festive shirt screams cowgirl but in the coolest of ways. Star spangled, indeed.
What would a Western look be without a pair of boots to complete it?
Good Old American Fun
Because what would America be without its insane sports culture? Especially baseball.
I'm a Yankees fan, hence my choice of this hat, but buy a cap representing whichever team you root for, especially if it's playing a game on July 4.
A comfy striped tee will never go out of style and is an easy way to look effortlessly chic.
American shoes in red, white, and blue that are emblazoned with a star. Absolute perfection.
Party In The U.S.A.
If you're going to a slightly more dressed up event, this look might be for you. I'd recommend pairing it with darker wash denim and some silver eyeliner for an especially head-turning effect.
Mwah! Major love for this handkerchief-cum-shirt, which features a cute lip motif and appropriately red and white color scheme.
Hands-free style at its best.
The absolute perfect shoes for the Fourth of July, these red sandals are spotted with silver hardware for a super shiny effect.