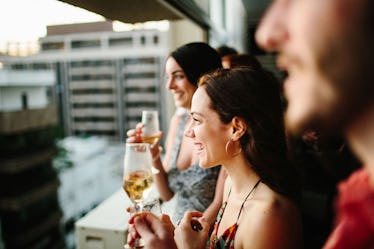 The Best Rooftop Bars To Celebrate The Fourth Of July Will Have You Feelin' Festive
Arguably, one of the most festive times of the year is the Fourth of July. There are beach barbecues, pool parties, and even road trips happening all over the country, to celebrate the stars and stripes. You and your besties may have already made some plans. After all, you've known this would be a day off of work for a few months now, and have probably been daydreaming about having fun in the sun. But, you'll truly want to check out some of the best rooftop bars for the Fourth of July if you're 21 and over, and hoping to feel festive with your friends.
Summertime calls for piña coladas and taking way too many pictures with your crew that you'll look back on when the weather isn't as warm. Would it be so bad if there were a sunset and a few skyscrapers in the background, too? Instead of breaking out your bathing suits and buying sunscreen, you'll be getting all dressed up and soaking in a one-of-a-kind atmosphere. It's only right that you get at least one picture for the 'Gram.
In my personal opinion, not much beats drinks and a beautiful view. Some would seek out a tropical island for such a thing, but you can actually find everything you're looking for in the cities just outside your backyard. These seven rooftop bars will be a must on the Fourth of July for you and all of your friends. Let freedom and the festivities ring!