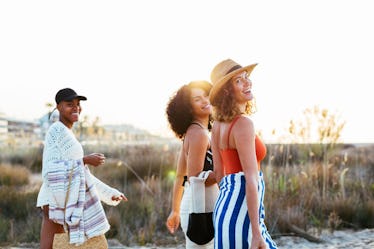 7 Unique Spots For Your Last-Minute Fourth Of July Trip, So You Don't Have FOMO
Let's talk about your Fourth of July plans, because fun in the sun is right around the corner. This year has flown by, so I don't quite blame you for being late to the game when it comes to booking a sweet trip for the holiday. Every year, celebrating Independence Day proves to be a great experience. But, this summer, you were seriously hoping to take advantage of those few days off to check something off your bucket list. These last-minute Fourth of July getaways 2018 will make sure that you don't miss out on an ounce of summer. It's not too late to check out an unreal destination, but don't keep putting it off another day.
Seriously, consider this a sign that you need to pack a bag and get going. You and your girls have been looking to take a road trip, but it's truly hard to find a weekend when you're all around. Normally, you'd head to a festive party and play badminton in someone's backyard for the Fourth of July. Nothing will be quite as memorable, though, as a few days spent away with your crew by your side.
I doubt you've considered finding bliss in the beauty of the mountains or even a desert in the spirit of the red, white, and blue. Choosing where to go is the hard part, but these seven destinations will make your last-minute planning pretty easy, so that you don't miss out on any part of summer.