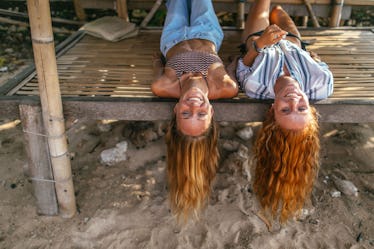 The 7 Most Relaxing Retreats In The U.S. To Plan For Your Sistermoon
Say "yes" to a sistermoon this summer. You may be assuming that this is something celestial, but for once, the stars aren't involved. In fact, this event is totally up to you and the girl you get to call your best friend and family. Sistermoons are all about celebrating the memories you've made with your main squeeze, and creating new ones so that the bonds are even stronger going forward. You could go camping together, or take that road trip down the Pacific Coast Highway like you've always dreamed. But, these relaxing retreats in the U.S. will actually be exactly what you're looking for, especially since life has been so busy.
Seriously, between work and all of your other commitments, you've barely been able to find free time to spend with your sister. You try to plan long weekends back home, or meet up for a quick lunch whenever you can. Let's be honest, though: That's not nearly enough, and you need a getaway to disconnect from the real world and finally hang with the raddest person in your life.
She's likely been your sidekick for as long as you can remember, and despite the fights over clothes and who had dibs on the car, you still love her endlessly. You've probably taken at least one trip together already, where you left the rest of the fam behind for a long weekend with each other. These seven relaxing retreats will be next on your bucket list, for a sistermoon well-spent.