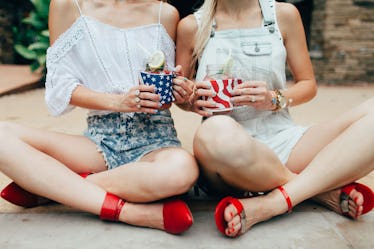 The Perfect Fourth Of July Outfit For You, Based On Your Zodiac Sign
Are you ready for the stars and stripes? June is already halfway over, and I'm honestly shocked. This year is truly flying by, and before you know it, you'll be sitting under fireworks with your besties and making s'mores down by the beach. If you're working all summer, you're living for the weekends and those Fourth of July pool parties that are right around the corner. This is your time to shine and soak up as much sun as possible. All you need is the perfect Fourth of July outfit, which lucky for you, has been picked out already purely based on your zodiac sign.
What would we do without the universe on our side? Seriously, the cosmos have been there when it comes to your relationships, and brought some pretty rad friends into your life, as well. Those besties are the ones who will make this summer so memorable, and you couldn't imagine diving headfirst into all of these amazing adventures any other way. They'll be the best travel buddies for when you're finally taking a trip abroad, and the ones you'll hang with under the starry night sky during weekend camping trips.
Yes, this time of the year always proves to be one of the most fun between the hiking and all of the roasted marshmallows, which is likely why it's my favorite. But, planning your Fourth of July outfit can be problematic. So, let's get that out of the way, OK?