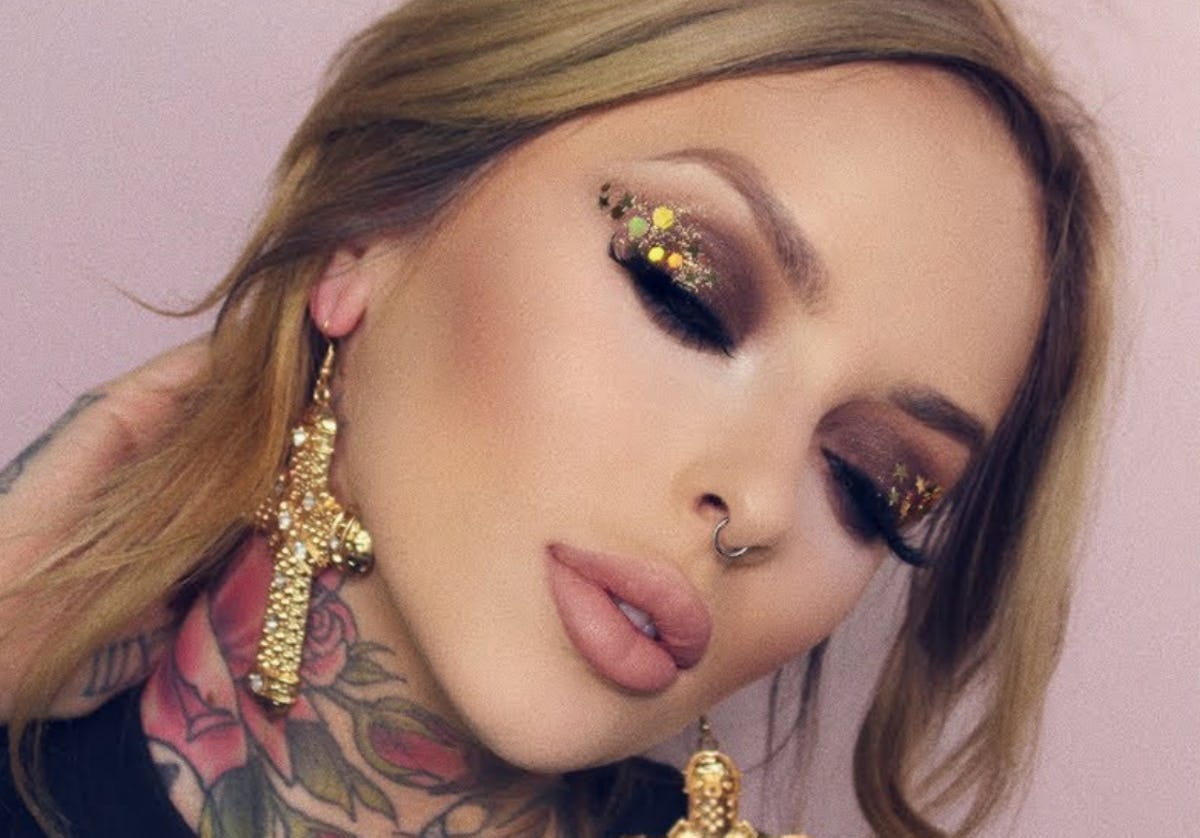 The Perfect New Year's Eve Makeup Look For You, Based On Your Zodiac Sign
New Year's Eve is upon is and, TBH, I spend more time deciding how to do my eyeshadow than wondering who I'm going to kiss when the ball drops. If you're planning to slay (and maybe play) this Dec. 31, check out these New Year's Eve makeup ideas and get your look in order. With less than a week left until 2018, there's really no time to waste.
Choosing how to do your makeup on an average day can be daunting. Do you pick the nude or the pink lip? Do you stick to your everyday eyeshadow, or attempt a graphic wing this morning? Picking which look you want to usher in the new year wearing can be damn near impossible. I bought my sexy leopard-spotted outfit over a week ago, and I'm still oscillating between a bold red lip à la Dita von Teese or a dramatic cat eye liner like the Marc Jacobs runway models. If you're majorly indecisive (like me) or unsure of your desired 2018 vibe, why not just turn to astrology to determine your fate? After all, the stars haven't steered us wrong before.
So let your sign be your guide and take all the difficult decision-making out of your NYE this year. Ring in the new year in makeup meant for you.
Capricorn
Nothing suits a Capricorn more than a classic NYE look. Keep the eyes subtle, but push yourself out of your comfort zone with a bold, glossy red lip.
Aquarius
Keep the focus on your steely stare, Aquarius, with a metallic, oceanic blue lid. You are the water bearer, after all. Plus, this look is anything but boring. Everyone at your NYE party will be mesmerized by your hypnotic eyes.
Pisces
This dreamy look is perfect for you, Pisces. Sashay into the new year with some wearable art adorning your face.
Aries
Play up your hotness, Aries, with this fire and ice eye look. The silver gives your usual uniform of warm tones the perfect amount of edge to enter 2018 fierce AF.
Taurus
Forever earthy, dress up your classic warm nude glam with a little glitter, Taurus. It'll give you that romantic twist you've been searching for.
Gemini
Gemini should consider adding a little contrast to a soft, shimmery eye with a bold burgundy lip this NYE. The stark contrast will bring your beat into harmony.
Cancer
Carefully placed pops of aquatic navy against a wash of gold will make you feel right at home, Cancer. Just make sure to use waterproof liner in case you get emotional as the ball drops.
Leo
You're already the center of attention, Leo. So play up your favorite features, but let your stellar personality really take center stage. A garnet eye will bring out the feline in you, but a soft rose lip will keep you down to Earth.
Virgo
Shed your "good girl" image by rocking a bold, glittery, black smokey eye this year. All your friends will be wondering what's gotten into you, Virgo. In 2018, anything can happen.
Libra
Go soft and romantic this NYE, Libra, with a silver, glittery lid and pillowy pink lips. Don't forget to add on as much highlighter as possible.
Scorpio
If anyone can rock a bold eye and a bold lip, it's a Scorpio. Just douse yourself in glitter, apply your favorite red lipstick, and call it a day. If you're really extra, give false bottom lashes a try. You'll be addicted, I promise.
Sagittarius
Sagittarius, this brown, high glam look will have you slaying your way into the new year. It's adventurous and different without being tacky.
There's no need to stress when selecting the perfect look this NYE. Just trust astrology and stick to your sun sign.