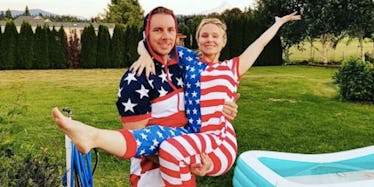 9 Celebrity Fourth Of July Parties That Will Put Your BBQ To Shame
Instagram
Happy post-Fourth of July, everyone! I hope you're not as hungover as I am.
Judging by the look of all of the Fourth of July parties I'm seeing on Instagram, though, it seems like I might have a lot of company in my hungover pain.
We must stand together in solidarity, fellow hungover people. (Someone please send help.)
The Fourth of July is packed with parties celebrating the nation's birthday, and you know who loves to go all-out for America's birthday? Celebrities.
So let's break down all of the celebrity Fourth of July parties that went down yesterday, because AMERICA!!!! (LOL, America is dying and so is my liver.)
1. Khloé Kardashian and Tristan Thompson
Khloé K and Tristan Thompson are obsessed with throwing huge parties. They hosted an epic Fourth of July bash at Kardashian's home, and the entire Kardashian clan was there to take in all the ~amazingness~.
Kris Jenner was there, sitting at a table reserved especially for her with a label that read, "Reserved for Kris F*cking Jenner." Like it. Love it. Gotta have it.
And Kim Kardashian was there, dutifully Snapchatting videos of her booty-inspired pool floatie.
I might have to get one of those, to be quite honest.
2. Kristen Bell and Dax Shepard
America's most pure couple hung out in the great outdoors (read: a backyard) in some American flag-themed jammies, and they look majestic and I would like to cry, but I'm going to be strong for them.
The only thing I want to see is a freakin' picture of their two daughters!!! We still don't know what they look like!!! But I understand wanting to keep their babies' lives private. Ugh, paparazzi ruin everything.
3. Miley Cyrus
I don't know if Miley Cyrus actually had a Fourth of July party IRL yesterday, but she definitely had a Fourth of July party on her social media!
The singer posted lots about what really makes America great (immigrants and people of color, to name a vital few).
She also reminded us just how much she cares about animals by posting a PSA about the number of animals that get lost every year on the Fourth of July.
I literally had no idea this was an issue, so thanks for the heads up, Miles!
She even posted an EXCELLENT throwback to her hit, "Party in the U.S.A." MOVE DEM HIPS, MILEY!!!
Nothin' like a nice, socially-conscious social media party to make you feel that genuine, inclusive patriotism!! The only kind there should be!!
4. January Jones
The former Betty Draper rocked a pair of pants with stars and stripes during her Fourth of July celebrations yesterday.
No birds were shot with a BB gun in the making of this photo.
5. Christina Aguilera
Come on over baby... to Christina's Fourth of July party on a dock!!!
The singer and her family posted this insanely adorable pic of them posing on a dock with a bunch of American flags and an exceptional doggo.
6. Neil Patrick Harris
Neil Patrick Harris posted an adorable video of his son, Gideon, belly-flopping into a pool in the Hamptons to celebrate 'Murica.
He also posted a pic of himself lounging with a beer because he DESERVES IT.
7. Reese Witherspoon
Elle Woods Reese Witherspoon spent Independence Day taking selfies with her daughter, Ava, on a beach.
I am still not convinced these two aren't clones of each other.
8. Sarah Jessica Parker
SJP spent the Fourth with her kiddos (and probably Matthew Broderick, although he's not in any of her posts) shucking corn and hanging out on the beach.
Any day where you can shuck corn is a majestic one.
9. Olivia Wilde
Olivia Wilde apparently had a pool party with Jason Sudeikis and their kids, Daisy and Otis, and she literally posted a picture of baby Daisy sitting in a BOWL that has a SUNFLOWER in it.
Her name is DAISY. She's sitting in a FLOWER. I'm going to throw up from the cuteness.
And that's what you missed this Fourth of July! Now, if you'll excuse me, I'm going back to bed. For America.