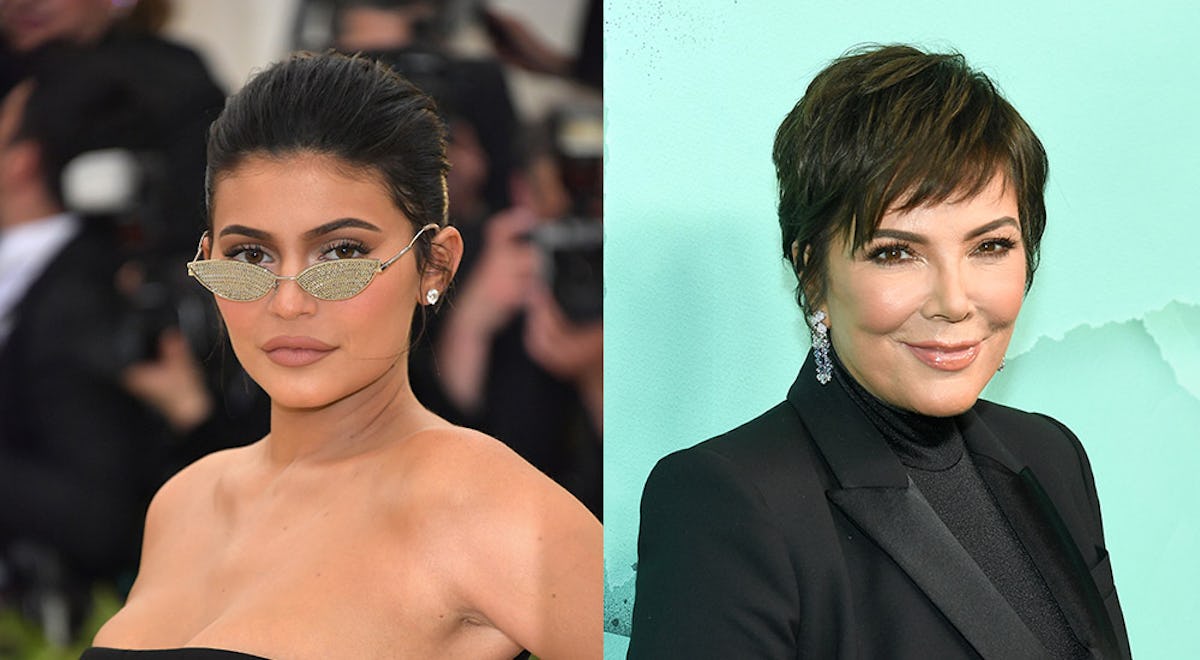 Kylie Jenner's Pixie Cut Wig Makes Her Look Exactly Like Kris Jenner & I'm So Shook
Neilson Barnard/Getty Images Entertainment/Getty Images; Nicholas Hunt/Getty Images Entertainment/Getty Images
Ask me my favorite Kardashian, and regardless of whether I'm going through a Kim, Khloe or Kourtney phase, my true, deep-down answer will always be Kris. Kris Jenner is a living 👏 legend 👏 and I'm prepared to fight about it, so don't even try me. Seriously, though, Miss Kris is major mom goals, so when I saw her daughter trying to copy her look on Instagram, I was beyond thrilled — in fact, Kylie Jenner's pixie cut wig makes her look exactly like Kris Jenner, which is pretty much the highest compliment one can receive. Kris is out here making pixie cuts great again, and I am here for Kylie's momager-chic moment.
If you're following Kylie Jenner on Instagram, you're likely already aware that the girl has a soft spot for a good wig. She's always a fan of changing up her look, and rocking wig after wig allows her to try out drastically different looks without making any long-term commitments to wild cuts or colors. While she does occationally opt for a trendy lob or bob, the starlette tends to lean towards longer, more luxurious wigs and extensions — who can forget her booty-skimming blonde birthday ponytail? She's always gone for lengthier looks, so I'm particularly intrigued when she goes for a short style. Prior to now, I've never seen Kylie with a pixie, but because she's got Kris's good genes, I already knew she'd look fab, and I was totally right.
Behold, a typical Kylie wig: long and luscious:
Now check out this screenshot of a Facetime convo between her and Kris, in which she's clearly rocking her mom's signature black pixie cut:
Hi, so yeah, this is the best look I've ever seen. Long hair is officially cancelled, because these short strands are nothing short of sheer perfection. "Obsessed with you," Kylie captions the screenshot of a smiling Kris, who is no doubt grinning at the success of her plan to take over the hair world, one pixie cut at a time. No one works harder than Kris Jenner, people.
For much of history, long hair has been associated with femininity and beauty, but all I can think of when I see this dark-haired duo is how cool, chic and fun their pixies really are:
Attention, all Kardashian/Jenners: I need a full-family pixie look! Could this be the 2018 inspiration for the family's iconic annual Christmas card? I think yes!
Prior to this pixie, bob-length wigs like this were the shortest I'd ever seen Kylie go, like this bleach blonde moment from the 2017 Met Gala:
And while she does wear her hair pulled back quite a lot, like this look from this year's Video Music Awards, the pixie cut's dark, piecey front bangs are a totally different feel than a sleek bun or pony:
TBH, I think the pixie really flatters Kylie's face shape, and also brings attention to her perfectly filled-in brows, which is always a plus. As of now, she has yet to clarify exactly why she was wearing this hairdo at the time of her mother-daughter Facetime, but I've got my fingers crossed she keeps it as a staple in her wig rotation, as I'd love to see a chic red carpet look topped by this bold, dark pixie. Talk about a big mood!