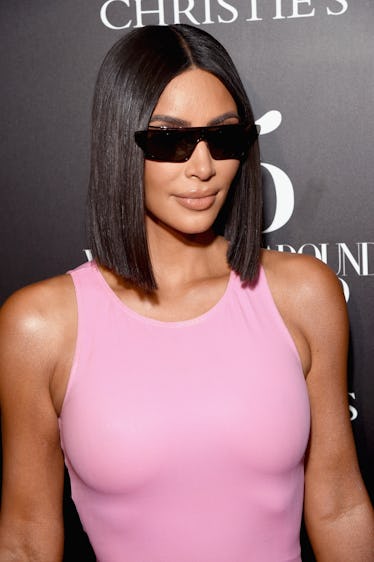 Kim K Posted The Most Legendary Throwback Photo Of Her Brows In Middle School
Michael Kovac/Getty Images Entertainment/Getty Images
There were so many amazing things about the 90s: Butterfly hair clips. Britney and Justin. Lisa Frank everything. Jordan Catalano. But you know what sucked in the 90s? Eyebrows. Because the trend was for them to be all weirdly skinny and super-plucked. And if you forget what I'm talking about, perhaps this photo of Kim Kardashian's old eyebrows will help jog your memory. Because OMG you guys she looks like a completely different human!
The Keeping Up With The Kardashians star was browsing through some old handmade photo albums on Sept 18 — remember when people actually made their own photo albums? — and decided to share her trip down memory lane on Snapchat. And I am so, so glad she did, because her middle school brow game was legit hilarious!
"That was me in 8th grade," Kim says in the video. "Look at my eyebrows, Anastasia would be mortified!" Anastasia, of course, is Beverly Hills brow queen Anastasia Soare, whose celeb clients include Naomi Campbell, J.Lo., and, yes, Kim K.
Keeks then showed her fans a strip of snaps taken in a photo booth around a year later. "I think this was 9th grade," she says. "I was obsessed with Drew Barrymore!"
Well duh, girl! I mean, who wasn't? And can we just discuss the fact that Kimmy hopped into a photo booth BY HERSELF and took a serious of pics SOLO while pointing to the camera and blowing kisses? Like, who did that back in the 90s? Did Kim K invent the selfie that day? I totally think she did!
Watch:
Meanwhile, this isn't the first time Kim has copped to having major brow regrets. Last February, momager Kris Jenner shared a throwback pic from 1997 of herself with Kim, Kendall, and Kylie on Instagram. "1997 throwback," she wrote in the caption. "The best memories. #proudmama."
Aw, so sweet! But Kim didn't see it that way, and she showed up in the comment section — and so did Katy Perry, BTW — to put her pencil-thin brows on blast and name-drop Drew Barrymore again.
"I look horrendous!" she wrote. "I was obsessed with Drew Barrymore and her thin eyebrows! And I discovered glitter bronze shadow."
Not gonna lie, I was a total glitter girl in the 90s, and I still bust it out on occasion. But those brows are pretty tragic. Still, Kim looks so young and cute and innocent here that I'm kinda digging her vibe. Also, I know Katy was probably trying to throw a little shade with her comment, but you know what? I actually think she was onto something, because I really would like to see Kim recreate this lewk in a tutorial.
But just for comparison's sake, here's a pic of Kim's current brow game:
It's so good, right? Of course, I'm pretty sure none of us made it out of the 90s without trying the whole over-plucked, teeny tiny eyebrow thing, and that's probably why microblading is now such a big trend.
Thanks for giving us all a reason to tattoo our faces, Drew!