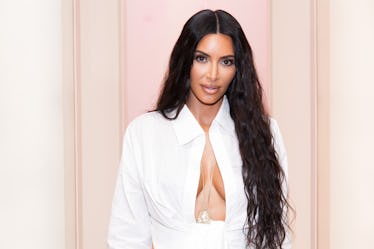 Kim K's Doctor Said She Can't Take Selfies, So She Legit Recruited An Assistant
Presley Ann/Getty Images Entertainment/Getty Images
In the most Kim Kardashian news you'll ever hear in your life, Kim K's doctor has told her to stop taking so many selfies. In a clip from the upcoming episode of Keeping Up With The Kardashians, the mom of three literally recruits one of the show's employees to help her take her selfies, so her hands can rest like the doctor ordered. Before you ask, yes. The video of Kim Kardashian's selfie assistant is the most extra thing you'll ever see.
"My hand hurts. I forgot my brace," Kim says to Khloé Kardashian and Kris Jenner while taking a selfie. (Apparently her selfie habits have put her in a brace.) "Paxy, will you come over here and help me?" she says to a woman off camera. "The doctor says I can only hold my phone like this, so I'm having Paxy take my pics so I can rest my hands," she adds when she sees Khloé and Kris looking confused as hell. "What doctor?!" Khloé says, being all of us in this moment. Then Kim filmed a short video about her Valentine's Day Kimoji fragrances with the help of hero Paxy, and then Paxy took a selfie of her while Kim held her arm up to pretend it was actually her taking the photo. You can't make this sh*t up.
Of course, Kris Jenner found it inspiring.
"I think Kim might be onto something," she said in a solo shot. "It'll protect Kim's hand without missing a beat on social media. I'm definitely going to poach Paxy to be my selfie assistant." Kris Jenner: What are you doing? You're weird. *Selfie turns out looking really cute.* Kris Jenner: I birthed a genius.
Keeping Up With The Kardashians has been pretty damn intense lately, so this selfie assistant video (as obnoxious as it is) is a break from the drama. We all know about Kim and Khloé's fight with Kourtney. It all started in the season premiere when Kim and Kourtney got into a blowout fight that resulted in Kim saying Kourtney was "the least exciting to look at" out of everyone in their family. "No one wants you in the f*cking shoot," Kim screamed at Kourtney. "Get the f*ck out of here and go!" Once Kourtney left, Kim said, "She's the least exciting to look at."
Kourtney sobbed on the phone to Khloé later and said, "I'm not here to be mistreated by my f*cking b*tch family. Kim saying that I'm the least interesting to look at — who even speaks like that?" She continued,
You guys just have really different values than me. I choose to be a mother to my three kids. I am not here looking for another job. I already work enough, more than I would like to.
Things between Kim and Kourtney seem to have improved now, though. They're back to posting photos with each other on Instagram.
Kourtney posted this throwback photo of her and Kim from 1995 and fittingly captioned it "1995."
Then Kim pretty much copied her sister's move and posted a throwback photo of her and her father captioned "1998."
So, uh, I guess Kim can't really complain if Kris Jenner does copy her selfie assistant idea.