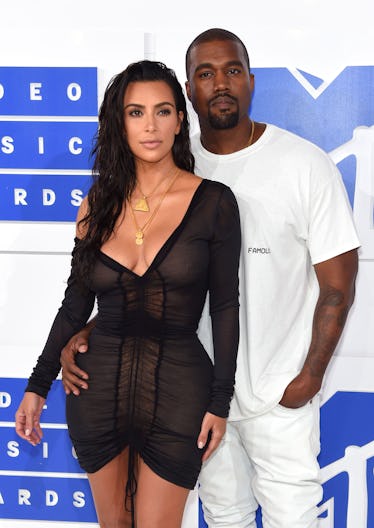 Kim Kardashian Apparently Won't Be Moving To Chicago With Kanye West For This Reason
Jamie McCarthy/Getty Images Entertainment/Getty Images
Kanye West is reportedly set to move from Los Angeles to Chicago. But it doesn't look like his wife is going with him. According to a new report from People, Kim Kardashian won't move to Chicago with Kanye West. The revelation comes just a day after reports surfaced that West was planning to leave Los Angeles behind to make Chicago his full-time home base. I guess Kardashian wasn't feeling those plans because it looks like she's standing her ground in Calabasas. Elite Daily reached out to Kardashian's reps for comment on this story, but has not heard back at the time of publication.
A source close to the situation told People that although Kardashian won't leave Calabasas for good, she does plan on spending more time in Chicago to be with her husband.
"Kim plans on spending more time in Chicago, but she isn't moving there full-time," the source said.
Apparently, Kardashian is concerned about how the move will affect the kids and wants them to have as stable an upbringing as possible.
"She thinks it's best for the kids to continue their schedule in LA. North is in school and everything is working great," the source said. "Kim doesn't think a permanent move to Chicago benefits the kids. Also, Kim wants to be around her family as much as possible too. She loves their new house and it finally feels like a home to her."
Despite all this, Kardashian is reportedly very supportive of West's move to Chicago. But People's source said that it's unclear whether West's love affair with Chicago will stick since he has a tendency to be indecisive.
"She will be supportive of Kanye's plans and they do have a house in Chicago too. Kanye has a tendency though to change his mind quickly, so she is just going along with his plans because it makes him happy," the source said. "Next week, something else might make him happier."
A second source also confirmed that West isn't good at making up his mind. "He changes his mind like he changes his underwear," they told People.
At an event on Monday, Sept. 17, West told an audience that he was planning to move to Chicago. In a video obtained by TMZ, West tells the audience, "I gotta let y'all know that I'm moving back to Chicago and I'm never leaving again."
According to TMZ's report, sources close to the situation revealed that West intends to make Chicago his permanent residence. He's reportedly found a property to call home and will move in soon.
TMZ also reported that West has plans to move his Yeezy office from Calabasas to Chicago, so it really does sound like he's moving his entire life from California to Illinois. That Kardashian isn't keen on moving with him is interesting, but not surprising. She's a California girl after all. I doubt she'd be totally content living in the Windy City. There's far less sunshine there. Plus, all her family is in California. It would be hard on her and the kids, for sure.