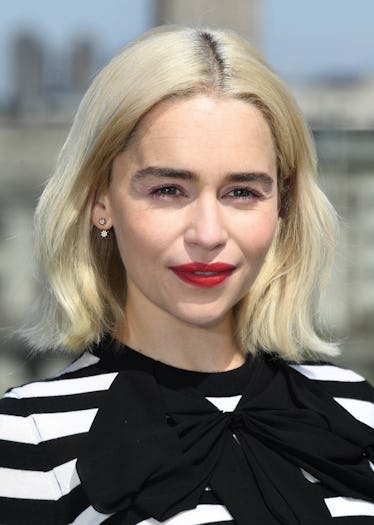 Emilia Clarke's New Pixie Cut Is A Far, Far Cry From Her Long Khaleesi Locks
Stuart C. Wilson/Getty Images Entertainment/Getty Images
You know those people who can rock any and every hair color and cut imaginable? Well, Emilia Clarke's new pixie cut proves that she is one of those people. The hair chameleon of all hair chameleons, the Game of Thrones star has sported everything from her Khaleesi platinum blonde long locks to a chocolate brown lob to a blonde bob with bangs. And now that the filming for the final season of GoT has ended, the Mother of Dragons has decided to try out a look that is a far cry from her character's signature waist-grazing mane.
On Thursday evening, Sep. 27, Clarke took to her personal Instagram to debut her short blonde pixie that was cut by her go-to celebrity hairstylist, Jenny Cho. In the post, Clarke shows off her cropped, tousled, super-short locks with a side part. And according to the caption of the post, her new haircut was inspired by a major #TBT moment that is making me seriously nostalgic for the '90s. "Me: I'm thinking when Gwyneth and Brad had the same hair cut. @jennychohair : I got 'chu" the caption reads.
If you missed Clarke's "Gwyneth [Paltrow] and Brad [Pitt]" reference, she is referring to the moment in time when the then-engaged couple both had matching blonde pixies, circa 1997. That's right. Before Brad Pitt and Jennifer Anniston, there was Brad Pitt and Gwyneth Paltrow, and besides being one of Hollywood's biggest (and unfairly attractive) couples, they also rocked matching hair very similar to Clarke's for a short while. You can't make this stuff up.
But I digress. Fast forward to present day, and the style looks just as good on Clarke as it did on Brad and Gwyneth back in '97. But what cut doesn't look good on Clarke? In fact, Clarke's longtime stylist Cho said the actress "has a huge color range" in an Instagram caption accompanying a video of Clarke's hair transformation.
"Emilia has been a sultry brunette to the recent platinum goddess and everything in between. She's one of the few lucky ones who has a huge color range," Cho wrote. "I know, I know, some of you guys are sad to see the Platinum go. It's stunning but not always kind on the hair. What's been your favorite of #emiliaclarke 's color? Hope you enjoy this very fast version of our cutting session. @emilia_clarke You're a dream."
Cho added the hashtag #startingover to her post, and start over Clarke has. Last September, Clarke revealed on Instagram that she decided to go all in for filming the last season of GoT by bleaching her natural hair to match the hue of Khaleesi's. Then, in May, she shared that she opted to cut her shoulder-length hair into a shorter bob, since the platinum dye job wasn't exactly gentle on her hair. But it's clear that, since she no longer has to commit to maintaining Khaleesi-level strands, she's rocking whatever kind of haircut she pleases.
If you're sad to see the last remnants of Khaleesi start to disappear, don't start crying just yet. Just last week, the actress showed off a brand new dragon tattoo to commemorate the fact that she will always be Mother of Dragons. Khaleesi forever.