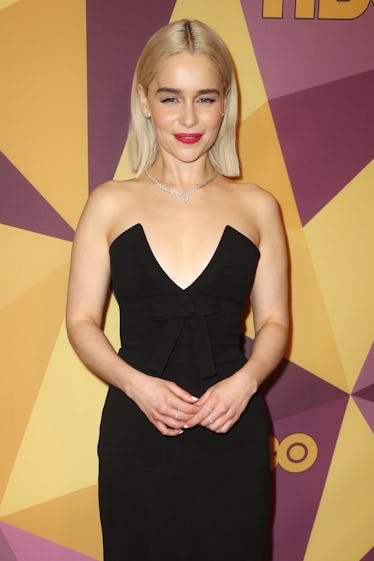 Emilia Clarke Made A Major Hair Change & She Looks Like An Old Hollywood Movie Star
Frederick M. Brown/Getty Images Entertainment/Getty Images
Awards show season is in full swing, which means we'll be seeing a lot of our favorite actresses, musicians, directors, producers and the like taking to various red carpets time and time again. Which means we'll also see them try out myriad beauty and fashion looks, because why the heck not? Emilia Clarke debuted bangs at the Critics Choice Awards last night, which were absolutely not there when she took to the Golden Globes red carpet a mere five days ago. Change is a beautiful thing. In this case, quite literally.
In September, Clarke delighted fans when she embraced her inner Khaleesi and dyed her chocolate brown hair a stunning platinum. "I done did it," the Game of Thrones star posted on Instagram. "Mother of dragons meet Emilia. Emilia meet mother of dragons. If you squint just so you might never know." Indeed, the color allows her to visually embody her on-screen persona more fiercely than ever before, but beyond that, the blonde looks straight-up gorgeous on her. Not many people can pull off such a jarring color transformation with such ease, but Clarke seems to be meant for the hue that defined old glamour.
At the Golden Globes, Clarke parted her glossy, buttery hair down the middle and slicked flyaways back behind her ears, which were studded with diamonds. The look was simple but, while stunning, left me less than excited.
So when she showed up to the Critics Choice Awards with a gorgeous updo, it was worth taking notice.
Not only was the hairstyle gorgeously retro (think Mad Men meets Old Hollywood) but it featured a stylistic element that Clarke hasn't rocked in awhile: side swept bangs. As Suave Professionals stylist Jenny Cho, the brains and skills behind the updo, explained, "Emilia's black, crystal rhinestone Dolce & Gabbana dress inspired me to create a subtle look, channeling a classic Edie Sedgwick." The dress, which blinked like a disco ball and boasted a midi hemline and classic silhouette, could have indeed fit right in at Studio 54. (Sedgwick was one of Warhol's muses.) Paired with her twisted hair, it made Clarke looked more elegant than ever — I'd say Cho succeeded in channeling her inspiration.
It's a 'do that would be perfect for any occasion, from graduation to a wedding to brunch and beyond. Thankfully, Cho revealed exactly how she created it in a step-by-step list, which means you just might be able to recreate it at home.
Here's how you can give it a try:
1. Apply Suave Professionals Natural Volume Mousse and layer with R+Co Aircraft Pomade Mousse to smooth hair, create body and ensure control.
2. Sweep bangs and pin away from the face. Pull the rest of hair into a mid-knot, leaving random pieces out to make the look a little undone.
3. Mist Oribe Free Styler Working Hairspray and flat iron bangs to make them extra smooth.
4. Unpin the bangs and sweep it to one side as you brush them with a small Mason Pearson brush. Be sure to separate bang pieces so it isn't too heavy.
5. Mist Suave Professionals Natural Hold Compressed Micro Mist Hairspray to hold the look as a final touch.
Although Clarke didn't win a Critics Choice Award (she was nominated for Best Supporting Actress in a Drama Series for portraying Khaleesi on Game of Thrones), she absolutely won the red carpet. All hail the Queen! Considering it was announced that Game of Thrones won't return to television until 2019 (I am SEETHING), these award show appearances might be some of the last times we see Clarke all dressed up for a long while. Sob.