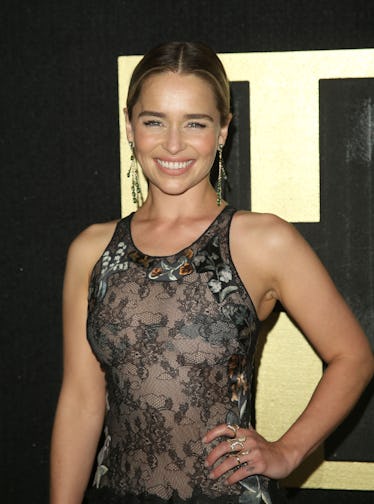 Emilia Clarke's 'Game Of Thrones' Tattoo Will Make You Want To Cry
Jesse Grant/Getty Images Entertainment/Getty Images
For the most part, celebrity tattoos are among the most exceptional yet subtle ones out there. Celebs have the means to score sessions with the most-in demand artists in the world but they also don't want anything too big that could hinder their work. Emilia Clarke's Game Of Thrones tattoo, which she just just got yesterday, is the perfect example—it certainly doesn't hinder her work, it honors it.
When you think of Clarke you probably think of Khaleesi or Daenerys Targaryen, who are of course one in the same. Yes, the actress has been in big name movies including Me Before You and Solo: A Star Wars Story, but her role as Mother of Dragons on Game of Thrones is undoubtedly the one that has defined her career and introduced her to the world on a massive global scale. Just as Daniel Radcliffe will always be remembered as Harry Potter, no matter what else he stars in, Clarke will first and foremost always be Khaleesi. Seeing as Khaleesi is literally the most badass and intelligent and beautiful woman ever, it's not a bad association. Point being, it makes sense that Clarke would want to commemorate her time on Game of Thrones, seeing as the series' final season will premiere next year. (Sobbing forever.)
In a post uploaded to Instagram just yesterday, Clarke revealed that her three babies, her dragons named Drogon, Rhaegal, and Viserion, will always live on, no matter their fate on the show or the show itself's fate. She appears in the photo with a huge smile and her right hand lifted up into the air, exposing her wrist on which the silhouettes of the three creatures appear in tattoo form. "MOD 4 LYFE!!!!🔥@_dr_woo_made sure this mamma ain't NEVER forgetting her babies.... 😍 #dontworryionlybrieflypassedout#withfyreandinkbaby#modgothookedupp#couldntbehappierifitried#🙌#🔥#❤️," she captioned the photo.
As Teen Vogue reported, Clarke told Ryan Seacrest and Kelly Ripa in May that would get a tattoo to commemorate Game of Thrones once the series ended, saying, "I'm going to get a dragon right here kind of flying away," as she pointed at her wrist. "So I think that's cool. A little kind of peace out." Clearly, she's a woman of her word, and the fact that she got the tattoo fresh off the show's Best Drama win at the Emmys makes it that much sweeter.
The dragons are small and were inked in a way that makes them look as if they're literally flying across Clarke's arm and she couldn't look less thrilled. But Dr. Woo, who is considered one of the top tattoo artists in the entire world, has a tendency to leave his clients, star-studded and otherwise, with huge smiles on their faces once he's given them their forever art. Take a look at his Instagram page and you'll see he's tattooed everyone from Miley Cyrus to Drake to Zoe Kravitz has sought out his expert artistry but his work, which is defined by exquisite details and small, precise line work speaks for itself. (Can you tell I would kill to have this guy's work on my body?!)
Mother of Dragons, Queen of cool.