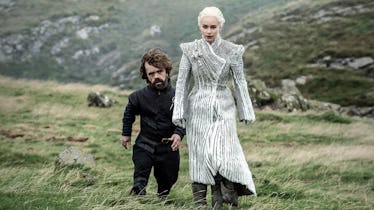 Emilia Clarke's Goodbye To 'Game Of Thrones' Will Absolutely Wreck You
HBO
Game Of Thrones filming is ending. I'm not ready. You're not ready. No one is ready. Yet, almost a decade after the show first lumbered off the ground, the end is nigh. Some of the actors have been done for weeks. Emilia Clarke's final days of filming were delayed due to her Solo: A Star Wars Story promotional tour, but now she's returned to Belfast, it feels like the final days are passing in a flash. And Emilia Clarke's goodbye to Game Of Thrones is so heartfelt, even a dragon would cry reading it.
Clarke isn't the only one still in Belfast, mind you. Over the weekend she posted another image from Belfast, one with a few of her cast mates, including John Bradley, who plays Samwell Tarley, and Conleth Hill, who plays Varys. They were joined in the photo by Dan Weiss, one of the two showrunners who has guided the series since it's inception.
Perhaps those two are characters who will survive until the end along with her? It's a nice idea, but Clarke already revealed the final scenes were filmed before she took time off for Solo. (Game of Thrones doesn't film scenes in order.) But it does suggest she, Varys, and Sam Tarly will at least be sharing scenes together somewhere along the way in the final season.
Check out her farewell post:
The caption reads:
Hopped on a boat to an island to say goodbye to the land that has been my home away from home for almost a decade. It's been a trip @gameofthrones thank you for the life I never dreamed I'd be able to live and the family I'll never stop missing #brokenheart #lastseasonitis
But Clarke couldn't just post and run. Her number one fan and hypeman for all things Khaleesi-related immediately got in on the act, even though he's been off the show since the very first season. The ex-Kahl Drogo, Jason Momoa, posted a response in her replies. Considering how over the top he is a lot of the time, this was a fairly restrained response.
Also in the replies: John Bradley, who apparently has been very impressed with her, even though this will be the first season they've ever shared scenes together.
If that wasn't enough, Lena Headey, aka Cersei Lannister, also responded to Clarke's Instagram post. It was a reminder to fans at home she's actually a really lovely human in real life and, despite what they see on the screen, she and Clarke love working together.
(Also, she swears like a $#%#&@*@%$ sailor.)
For the record, these goodbyes as filming winds down do not mean the series is completely finished. Actors are technically booked to film for at least another month or so. (Though some of this is just pick-up shot coverage which may or may not be necessary.)
The production will be taking the coming weekend off though, as the entire cast and crew have been invited to the wedding of Kit Harington, who plays Jon Snow. He's getting married to Rose Leslie, who he met on the Game of Thrones set when she played his love interest Ygritte the wildling from Season 2 to Season 4. Their wedding takes place in a castle this coming Saturday, June 23, 2018.
But even though the show isn't totally done yet, the production is definitely in the final days. For longtime fans, this marks the end of an era and the beginning of a new one. As Season 8 wraps, HBO has greenlit the filming of the first prequel spinoff pilot, written by Jane Goldman.
Meanwhile, fans will have to keep waiting until Game of Thrones' final season decides to mosey on over and start airing on HBO sometime in 2019.