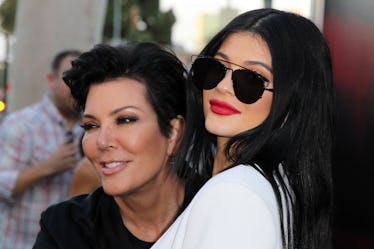 Kris Jenner Played A Huge Role In Delivering Kylie's Baby That'll Blow Your Mind
David Buchan/Getty Images Entertainment/Getty Images
Kris Jenner apparently had a very, uh, hands-on role in the birth of Stormi Webster. The newest episode of Keeping Up With The Kardashians on Sunday, Sept. 23, documented the day Kylie Jenner gave birth to Stormi (don't worry if you missed it — the only footage we saw was already shown in Jenner and Travis Scott's "To Our Daughter" video), and the video of Kris Jenner describing how she delivered Kylie's baby is next-level closeness, even for the Kardashians. Y'all, Kris Jenner delivered Stormi Webster.
"I pulled her out!" Jenner revealed to Kim and Kourtney in the episode filmed days after Stormi was born. "It was such a positive experience," she revealed before dropping that birth bomb. Jenner told Kim and Kourtney that Kylie didn't feel any of her contractions, which... is quite shocking? I have so many questions? Did the epidural just work really well? If she had a natural birth, how did she not feel any pain?! Someone, please explain this to me!!
"She just kept saying, 'I just don't feel any pain,'" Jenner said, "and you see these contractions like crazy, and she would go, 'I just am not feeling it,' and I'm like, this is really weird." She continued, "She was such a trooper. She really was. She was so calm. It was really exciting." And that's when she dropped the bomb that she pulled out the baby. "I delivered the baby," she said excitedly, "I pulled her out!" Way to bury the lede there, Kris. All Kim said back was "ew."
Look, Imma love my daughters and everything, but I think I'd rather leave delivering their babies to the professionals.
Though, with six kids and nine grandchildren, I guess you could consider Kris Jenner a professional.
Kylie then brought baby Stormi to the family dinner later in the episode. Just like in the birth announcement she posted after Stormi was born, Kylie told her family that she loved being pregnant and that she was sad it was over. "I miss it," she said. "I had, like, the easiest pregnancy ever. You never feel alone. I was, like, really sad to not be pregnant anymore." I don't blame her for missing being pregnant if she really did have such a simple time with it and an apparently painless childbirth...
Kylie being able to keep her pregnancy and the birth of Stormi private was a main discussion in this episode (that, and Khloé having to put down the family dog, Gabbana. RIP to a great doggo). "Your pregnancy has been the best-kept secret of our generation," Kim said in a shot with Kylie. A bit dramatic, but sure. "Your friends deserve awards," Kim added. "Now you know you have some real ones."
Chicago West made her debut on the show in the episode just before this one and was just two weeks old when Stormi was born. We still have all of the episodes about Khloé giving birth to True amid the whole Tristan Thompson cheating scandal before this season is up, so get ready for a whole lot more of this Kardashian baby content.