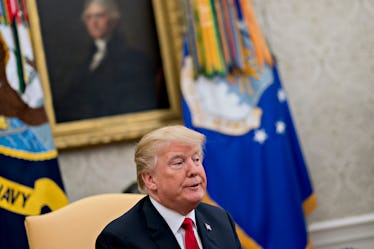 The Number Of People Who Have Left Trump's White House Is Pretty Unsettling
Pool/Getty Images News/Getty Images
President Donald Trump's White House is definitely a more chaotic one than we've been used to. That's not to say that every White House isn't a chaotic one, but Trump's is definitely a cut above the rest. And one of the main reasons why the Trump White House has been branded as "total chaos" is the staggering number of departures that we've seen since his inauguration on Jan. 20, 2017. So how many people have left Trump's White House since he began his tenure as president? A lot, is the official answer.
UPDATE: On March 13 2018, President Trump tweeted that Secretary of State Rex Tillerson was being replaced by Mike Pompeo, who had previously been serving as director of the CIA. Trump confirmed at an impromptu press conference that he had not spoken to Tillerson before making the decision. In a statement about his departure Tillerson said , "The Secretary did not speak to the President and is unaware of the reason, but he is grateful for the opportunity to serve, and still believes strongly that public service is a noble calling." Tillerson's departure brings the total number of people who have left the Trump White House to 20.
EARLIER: As of March 6, 2018, a grand total of 19 Trump White House officials have either resigned or been fired from their posts. Those that have departed vary greatly when it comes to their seniority levels, as well as how dramatic their exits were. But there have been some pretty high-ranking officials that have left, which raises major red flags as to how stable this administration actually is.
You can expect a new person to announce that they are leaving the White House pretty much every day at this point. When these departures first started happening they came as a shock. But now that the media is used to these announcements, everyone is seemingly asking the same question — who will be next to go?
The answer to that question is up in the air at this point. But we do know everyone that has left, so here are a few of the most notable White House staff exits that we've seen to date.