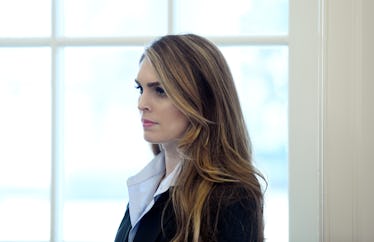 Hope Hicks Is Resigning From The White House, So Donald Trump Is Losing Another Aide
Pool/Getty Images News/Getty Images
Another one bites the dust. Long-time White House staffer Hope Hicks is resigning from the White House, The New York Times reported on Feb. 28, leaving her position as communications director for the Trump administration. Hicks was one of President Trump's longest serving advisors.
According to The Times, Hicks has been planning on resigning from her position for months, relaying to a close friend that felt that she "accomplished what she could do" with her role as communications director. Her resignation came the day after her eight-hour testimony in front of the House Intelligence Committee, where she admitted to having been required to tell "white lies" throughout her job. However, she did claim she never lied about anything surrounding the Russian interference investigation during the 2016 election. Hicks is the latest staff member to leave, after helping Trump during his 2016 presidential campaign and later becoming a White House aide.
According to The Times, it's still to be determined where Hicks will go or when she will officially step down from her position, but many suspect it'll be in the next few weeks. President Trump spoke to The Times about Hicks's resignation, praising her work for the past three years.
He said,
Hope is outstanding and has done great work for the last three years. She is as smart and thoughtful as they come, a truly great person. I will miss having her by my side but when she approached me about pursuing other opportunities, I totally understood. I am sure we will work together again in the future.
Hicks is perhaps known to be the enigma of the Trump administration. The communications director regularly declined sit-down interviews and never appeared at the White House podiums during press briefings. This might be due to her lack of experience at the beginning of her brush with politics as a member of Trump's election campaign? Her being the youngest person ever to hold the position of communications director? Or perhaps she plans on returning to modeling? Mystery mystery.
According to a Feb. 13 report by CNN, the number of staffers leaving the White House is record-breaking. A study done by Kathryn Dunn Tenpas of the Brookings Institute revealed that one in three Trump administration staffers have left the White House within the first year. In the study, Tenpas compared the first year of Trump's staff turnaround rate to that of his five predecessors, finding that Trump's "A Team" staff turnaround rate was double Reagan's, and triple Obama's.
Tenpas goes into further detail about the various high-level staffers who have either resigned or gotten fired within the first year of Trump's presidency. The list includes: Reince Preibus, chief of staff; Katie Walsh, deputy chief of staff; Sean Spicer, press secretary; George Sifakis, assistant to the president and director of the Office of Public Liaison; Michael Flynn, national security advisor; and KT McFarland, deputy national security advisor.
According to CNN, Tenpas's report came out mid-January, leaving names such as Rob Porter, Rachel Bland, and David Sorenson off the list of people who have also left the administration.
Well, I guess we can add Hicks's name to that list as of today.
While there are a few theories floating around as to why so many staffers have resigned and been let go, a huge problem concerning Trump's hiring process was his team's lack of political experience. Hicks is the perfect example, since the 29-year old had no political experience prior to her involvement in Trump's election campaign. However, The Times stated that Hicks is the "the third generation of her family to represent a powerful but highly controversial client," since her father ran public relations for a tobacco company and NFL and her grandfather was one of the forefront leaders of Texaco in 1970's.
So long, Hope. It was a nice ride while it lasted.