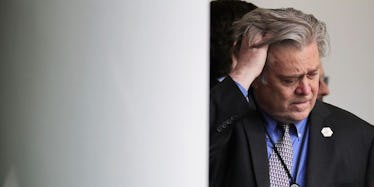 Steve Bannon's Out Of Trump's White House, But Where Will He Go Next?
Chip Somodevilla/Getty Images
After news broke early on Friday, Aug. 18, that Steve Bannon had severed ties with the Trump White House, the second thing on everyone's mind was, what will Steve Bannon do now? (The first was, of course, dear god, thank you for this small gift.) Rumors, of course, are already swirling. Will he return to the site that catapulted him to the forefront of our political zeitgeist? Will he... dare anyone say it... venture to make his own name in politics, well outside of the reach of Donald Trump?
According to TMZ, Sarah Huckabee Sanders, White House Press Secretary, released the following statement following news of Bannon's resignation: "White House Chief of Staff John Kelly and Steve Bannon have mutually agreed today would be Steve's last day. We are grateful for his service and wish him the best."
Early reports from BuzzFeed indicate that there is definitely a next step already in the works for Bannon, and it'll shock and surprise no one to learn that the former chief strategist of the Trump White House has his eyes set on his former stomping grounds. In a statement to BuzzFeed, former Trump campaign adviser Sam Nunberg indicated that Bannon would return to to Breitbart in the hopes of unsetting Matt Drudge, creator and editor of the Drudge Report website. Nunberg said,
Matt Drudge worked to remove Steve Bannon, that is the reality. And I hope Matt is happy because his work helped Bannon not be in the West Wing, but it helped Democrats and people that didn't vote for Trump be in the West Wing.
Twitter, on the other hand, seems to have a great idea of where Bannon will (and in some cases, should) go next:
At present, it's all the world can do to speculate on where Bannon will go next. Unfortunately, we can assume he'll go somewhere. The only concern is where.