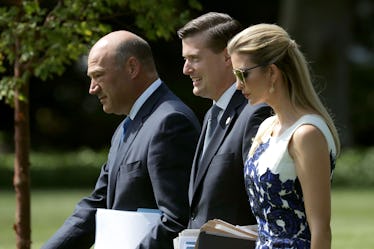 A Trump White House Staffer Resigned After Domestic Abuse Allegations Surfaced
Chip Somodevilla/Getty Images News/Getty Images
On Wednesday, Feb. 7, news came out that White House staffer Rob Porter resigned from his position in the Trump administration. The resignation follows reports that Porter had abused his two former wives, which they claimed in interviews with DailyMail.com in a report that was published on Feb. 6. Before his resignation, Porter had served as a White House staff secretary to President Donald Trump.
Porter's ex-wives, Colbie Holderness and Jennifer Willoughby, alleged in their interviews with the DailyMail.com that Porter was abusive in both of their marriages. Willoughby filed an emergency protective order against him in June 2010 when he acted violently after breaking a private separation agreement, The New York Times reports. Holderness gave The Intercept photos of herself with a black eye that she claims he gave her while on vacation in 2005.
In response to the allegations against him, Porter told the DailyMail.com, "I will not comment about these matters, beyond stating that many of these allegations are slanderous and simply false."
"Rob Porter is a man of true integrity and honor, and I can't say enough good things about him. He is a friend, a confidante and a trusted professional. I am proud to serve alongside him," White House Chief of Staff John Kelly told DailyMail.com.
White House Press Secretary Sarah Huckabee Sanders also provided a comment to DailyMail.com, saying, "I have worked directly with Rob Porter nearly every day for the last year and the person I know is someone of the highest integrity and exemplary character."
Holderness and Willoughby's claims are particularly relevant as they pertain to his work at the White House. Despite having been at the White House for a year, Porter did not have security clearance. Holderness and Willoughby told CNN that they had been contacted by the FBI last year in the course of his application for security clearance. They said that they told the FBI about the alleged abuse, and a source told CNN that this was likely a reason for his lack of security clearance.
CNN and Maggie Haberman of The New York Times report that there were some in the Trump White House who knew about the domestic violence allegations. According to The New York Times, at least one Democrat in the House has called for a House Oversight Committee investigation into whether Chief of Staff Kelly had known about the allegations and whether Porter had access to materials he shouldn't have had access to without security clearance.
In a statement on Wednesday night, Kelly said he was "shocked by the new allegations released today against Rob Porter." He added that "there is no place for domestic violence in our society."
As a White House staff secretary, Porter's role was more behind the scenes, and it had been growing over the past year, especially once Kelly took over as chief of staff. According to CNN, Porter, a lawyer, managed executive orders and actions as well as bringing documents to the president as a secretary and was involved in legal vetting for documents. Porter sometimes traveled with the president, including in his January trip to Davos, Switzerland for the World Economic Forum. Porter helped to write Trump's State of the Union address last month. Porter was also romantically linked to Trump's communications director and long-time press secretary Hope Hicks, according to reports.
Before working in the White House, Porter was the chief of staff to Senator Orrin Hatch of Utah. Hatch had two very different reactions to the news about Porter, according to Business Insider. Hatch told the DailyMail.com in their initial article, "Shame on any publication that would print this — and shame on the politically motivated, morally bankrupt character assassins that would attempt to sully a man's good name."
After the photo of Holderness with the black eye came out later on Wednesday, Hatch said in a statement, "I am heartbroken by today's allegations. In every interaction I've had with Rob, he has been courteous, professional, and respectful. My staff loved him and he was a trusted advisor." He added that he does "not know the details of Rob's personal life. Domestic violence in any form is abhorrent and unacceptable."
New York Times reporter Maggie Haberman reports that Porter's last day at the White House will be Thursday.