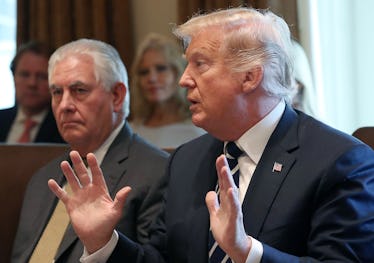 Donald Trump Is Replacing Rex Tillerson Months After Saying He Wouldn't
Mark Wilson/Getty Images News/Getty Images
After months of reporting from White House insiders indicating that President Donald Trump would fire his secretary of state, Trump announced he is replacing Rex Tillerson, removing him from the role after nearly a year of service. The secretary of state role is now set to be assumed by Trump's current CIA director, former congressman Mike Pompeo. The announcement came via Trump's Twitter account on Tuesday morning, March 13.
Here's what the president had to say:
Mike Pompeo, Director of the CIA, will become our new Secretary of State. He will do a fantastic job! Thank you to Rex Tillerson for his service! Gina Haspel will become the new Director of the CIA, and the first woman so chosen. Congratulations to all!
For much of Tillerson's tenure, the secretary of state had been reported to be at odds with the president on major foreign policy issues, including the Paris Climate Agreement and a nuclear deal with Iran. The wave of stories about a deterioration in Trump and Tillerson's relationship included a report from NBC News that stated Tillerson once referred to Trump as a "moron."
Trump's decision to oust his secretary of state comes three months after he vehemently denied reports that Tillerson would be replaced. In late November, The New York Times reported that the president was aiming to replace Tillerson with Pompeo, the exact personnel move that the president announced on Tuesday.
A month earlier, Axios also reported that Trump advisers had been considering replacing Tillerson with Pompeo.
In December, the president tweeted, "The media has been speculating that I fired Rex Tillerson or that he would be leaving soon - FAKE NEWS! He's not leaving and while we disagree on certain subjects, (I call the final shots) we work well together and America is highly respected again!"
There is one area, however, in which Trump's decision on his secretary of state breaks from what multiple reports predicted.
The New York Times' reporting indicated that Mike Pompeo — as a result of replacing Tillerson — would in turn be replaced as CIA director by Senator Tom Cotton (R-AK).
However, the role of CIA director is now set to be taken over by Gina Haspel, who will indeed become the first female director at the agency, as Trump tweeted. Haspel is a CIA veteran of over 30 years and has been described as a non-partisan professional of the U.S. intelligence community. Haspel had previously been serving as deputy CIA director under Mike Pompeo.
According to a statement from the U.S. State Department, President Trump had not spoken to Tillerson about the decision to replace the secretary, and that Tillerson had intended to continue serving in his role, despite reports that indicated Tillerson himself planned to leave the department after a year.
The statement read, "The Secretary [Tillerson] had ever intention of staying because of the critical progress made in national security. He will miss his colleagues at [the] Department of State and the foreign minister he has worked with throughout the world. The Secretary did not speak to the President and is unaware of the reason, but he is grateful for the opportunity to serve, and still belies strongly that public service is a noble calling."
During an impromptu press conference with reporters on the White House's South Lawn on Tuesday morning, the president confirmed that he made the decision without talking to Tillerson, who has been traveling abroad.
President Trump also acknowledged he had major policy differences with Tillerson, contrasting those differences with the "chemistry" that Trump has with Pompeo.
Tillerson's ouster means that the president's top diplomatic official is being replaced just as Trump plans for a major diplomatic event: a first-ever meeting between a U.S. president and the leader of the Kim regime of North Korea.
Both Mike Pompeo and Gina Haspel will now be subject to hearings before Congress before being confirmed in the respective roles of secretary of state and CIA director.