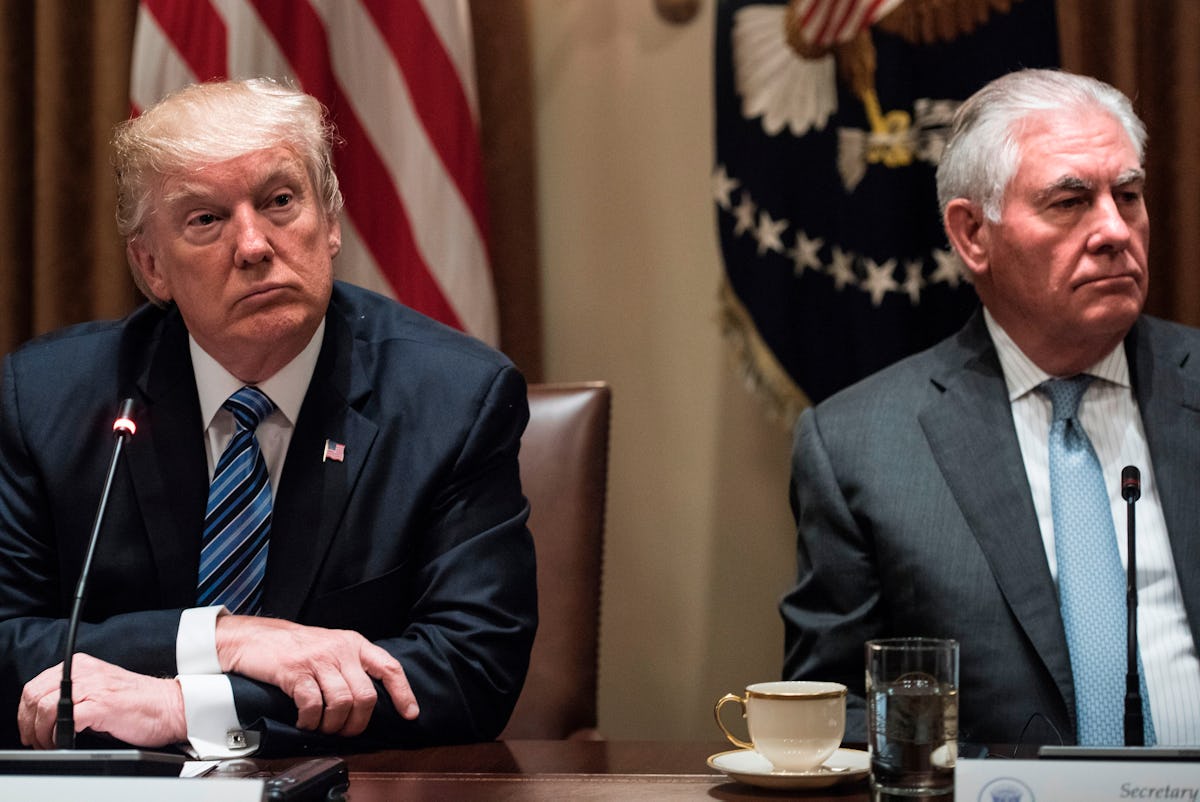 Trump Is a Reportedly Considering A Replacement For Rex Tillerson, So Maybe He's Not Over The "Moron" Comment
BRENDAN SMIALOWSKI/AFP/Getty Images
On Wednesday, Oct. 4, a press conference at the U.S. State Department was meant to end speculation around the question, "Will Rex Tillerson be fired?" Now, days later, life has been brought to the speculation again — but with a new report indicating that a specific replacement is being consider to take over for Tillerson, the secretary of state. During his Wednesday press conference, Secretary Tillerson denied that he was on his way out of the Trump administration, despite reports that he called Trump a "f*cking moron" and stories about him and the president not having a good rapport.
There's never been a consideration in my mind to leave. I serve at the appointment of the president, and I am here for as long as the president feels I can be useful to achieving his objectives.
And yet, on Friday Axios reported that Trump advisers have been floating the idea of Tillerson being replaced by current CIA Director Mike Pompeo.
The report also notes that Pompeo has a good relationship with President Trump, a contrast with the multiple reports that have detailed an absolute breakdown in trust between Trump's White House and Tillerson's State Department.
A story that was indicative of that reported mistrust is, of course, the account of Tillerson calling the president a moron.
According to NBC News, Tillerson referred to Trump as such after July meeting at the Pentagon, where the secretary had met with members of the Trump administration.
On Wednesday, hours after Tillerson's press briefing, his press secretary, former Fox News host Heather Nauert told reporters,
The secretary does not use that type of language during a press briefing. The secretary did not use that type of language to speak about the president of the United States. He does not use that language to speak about anyone.
That amount to a direct denial, which Tillerson himself did not provide when asked about reports of him calling Trump a moron.
During his own conference, the secretary of state would only tell reporters,
I'm not going to deal with petty stuff like that.
The fact that Tillerson didn't flatly deny that he called the president a moron eventually made Trump "furious," according to Axios.
Axios report about Pompeo being a potential candidate to fill the secretary of state role in the absence of Tillerson is just one of multiple stories that have been reported since Tillerson delivered his address on Wednesday.
Hours after that address ended, the New York Times reported that, despite Tillerson's claims to the contrary, the secretary had in fact considered resigning on multiple occasions and had to be talked out of him by other senior members of the Trump administration.
The Times report also stated that Tillerson has "regularly expressed astonishment" about how little Trump understands foreign policy.
The president would soon after address reports about Tillerson's consideration of resignation, calling the reports "fake news."
Still, on Thursday, NBC News published yet another report revolving around Trump's relationship with Tillerson, citing six unnamed administration officials.
On this occasion, the report stated that Trump's chief of staff, John Kelly, cancelled his plans to travel with the president to Las Vegas on Wednesday. Kelly reportedly did this so that he could stay in Washington D.C. and summon Secretary Tillerson to the White House, where the two would have a discussion with Secretary of Defense James Mattis to figure out how the State Department could move forward.
In other words, considering all of the reporting that has come out since Tillerson's Wednesday press conference — including the story about how a potential replacement has been considered by Trump advisers — you can bet that the Trump-Tillerson narrative is far from over.