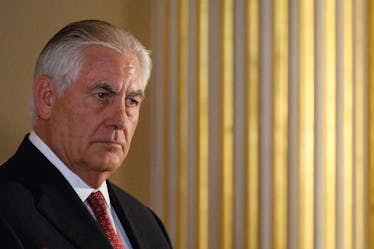 Twitter Is Over This Story That Rex Tillerson Called Donald Trump A "Moron"
Leon Neal/Getty Images News/Getty Images
A new report came out on Wednesday, Oct. 4, claiming that Secretary of State Rex Tillerson called President Donald Trump a "moron" earlier this summer. Since then, there have been two press briefings with the Secretary of State himself and with the Department of State regarding the report. With much more pressing issues going on in the U.S. today, tweets about Tillerson and Trump show people are over the drama.
Here's the back story to the drama: The report, which came from reporters at NBC, claimed Tillerson called Trump a "moron" after a meeting at the Pentagon in July. (And NBC reporter Stephanie Ruhle now claims Tillerson called Trump a f*cking moron.") Around the same time, rumors were circulating that Tillerson wanted to leave the Trump administration because he had growing frustration with the leadership, according to CNN. NBC also reported that officials said Vice President Mike Pence and other top officials advised Tillerson on ways to ease frustrations with Trump and reportedly urged him to remain Secretary of State until at least the end of the year.
After the report was released on Oct. 4, Tillerson held a press briefing where he denied NBC's report about him wanting to leave his position. He referred to the report as "erroneous," and said that Vice President Pence never persuaded him to stay, "because I never considered leaving this post." With recent and consecutive resignations in the Trump administration, it seems believable that inside officials would do their best to keep more from resigning.
Tillerson went on to express his support for the Trump administration and for his duty to the American people when he said his "commitment to the success of our president and country is as strong as it was when I accepted his offer to serve as Secretary of State."
While he claimed the NBC report contained errors, he did not explicitly address a reporter's question about the term "moron" he allegedly used to describe Trump. Tillerson replied with, "I'm not gonna deal with petty stuff like that; this is what I don't understand about Washington."
Twitter took the reply, or lack thereof, as confirmation that Tillerson did call Trump a moron, which, if true, is something people do not seem mad about.
Just hours after Tillerson's initial press briefing, Heather Nauert, State Department spokeswoman, held a follow-up briefing on behalf of Tillerson, in which she explicitly denied Tillerson calling Trump a "moron."
In the briefing, Nauert said,
The secretary does not use that type of language during a press briefing. The secretary did not use that type of language to speak about the president of the United States. He does not use that language to speak about anyone.
She also said she spoke with Tillerson, who supposedly spoke with the president and confirmed the two were "all good." President Trump, while en route to Las Vegas on Wednesday, tweeted about NBC, calling them "#FakeNews." He later told reporters it "was a totally phony story," adding that he is "very honored by [Tillerson's] comments.
It's unclear whether Trump will say any more about his and Tillerson's relationship, considering they have had their differences on issues in the past. For instance, when Tillerson stated that the U.S. and North Korea were to be in direct contact on Sept. 30, Trump said on Twitter that he told Tillerson to "save his energy" because he was "wasting his time" on Oct. 1.
After the second press briefing from spokeswoman Nauert, people on Twitter are confused about the contradictions from both statements this morning — and, more importantly, confused as to why we are still talking about this drama when more pressing issues are at hand.
Our president went to Puerto Rico on Tuesday, Oct. 3, to meet with Hurricane Maria survivors, and he is in Las Vegas, Nevada on Wednesday meeting with first responders and families of victims from the Sunday night shooting. And what are we talking about in Washington D.C.? New drama with the Trump administration and the word "moron."