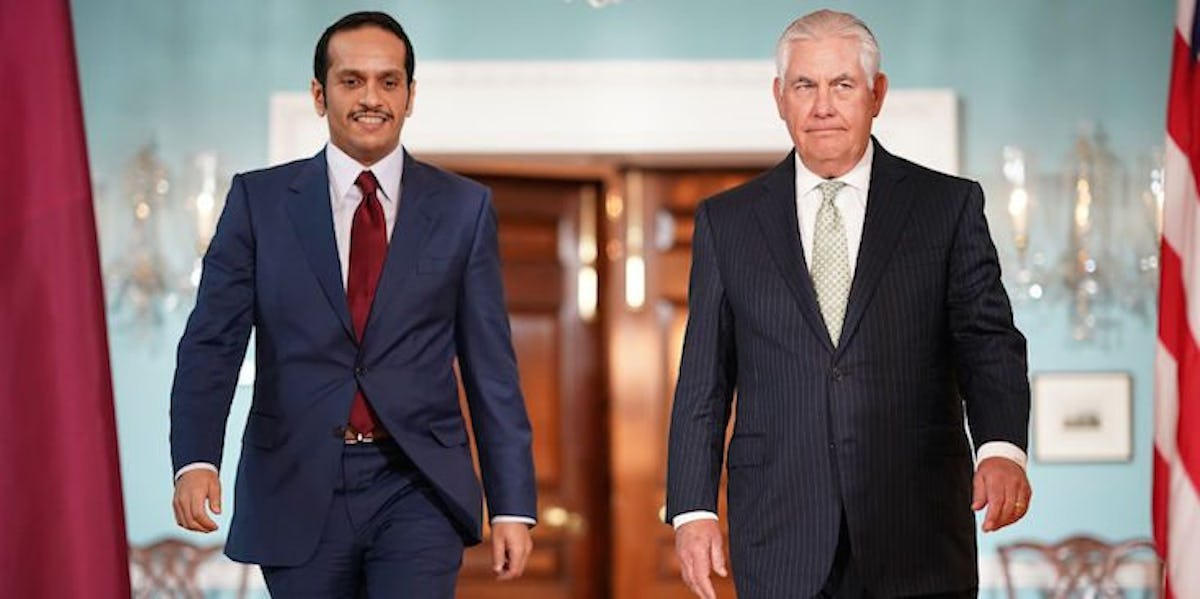 Trump's Secretary Of State May "Rexit" His Role Because He's Reportedly Annoyed With Trump
Win MacNamee / Getty Images
Following an increasingly tense situation between the White House and the State Department, Secretary of State Rex Tillerson may be considering leaving his post early, CNN reports.
Two sources with knowledge of Tillerson's conversations with friends outside Washington D.C. told CNN over the weekend that there was a "noticeable increase in the secretary's frustration" and that they sensed the chasm of differences between the President Donald Trump and Tillerson would only widen.
Elite Daily reached out to the White House for comment but had not received a response by the time of publication.
It's unclear what, among many possibilities, the primary reason would be for Tillerson to leave.
According to a report in Politico, Tillerson lashed out at White House staffers over the negative media coverage and hiring blockades, as his department is still trying to fill positions several months into the year. Meanwhile, Tillerson's foreign policy efforts have been undermined by the White House's rogue actions.
Already, the possibility of Tillerson's early leave is being referred to as "Rexit," keeping with the naming convention that marked the Brexit deal when Britain voted to exit the European Union. The hashtag #rexit has been circulating.
Another wrinkle in the drama is Trump's repeated rebuke of Attorney General Jeff Sessions, which Tillerson called "unprofessional," according to CNN's sources.
In an interview published July 19 in the New York Times, Trump said that he wouldn't have hired Sessions if he'd know he would eventually recuse himself from the investigation into Russia's involvement in the 2016 elections. This was followed by a report by Axios released Monday that Trump was considering replacing Sessions with Rudy Giuliani. Also on Monday, President Trump tweeted what was interpreted as an attack on the attorney general:
According to sources, Tillerson had intended to "stay on the job at least through the end of the year," CNN reports, but now there is doubt if the Secretary will indeed make it that long.
News of Tillerson's possible exit comes just a few days after Press Secretary Sean Spicer resigned, the latest in a string of resignations and firings in the Trump administration in just over six months in office.