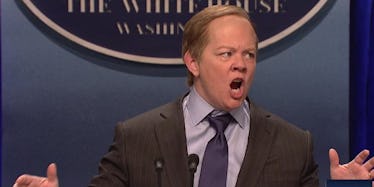 Melissa McCarthy's Sean Spicer Impression On 'SNL' Was Accurately Hilarious
NBC
"Saturday Night Live" absolutely killed it this past episode. And this time, the variety show's best political impression wasn't Alec Baldwin's Trump.
During the show's best sketch of the night, Melissa McCarthy's Sean Spicer came out in front of White House press corp to punch them "in the face, and also I don't talk so good."
Her Sean Spicer was mad, blustering, aggressive -- hold on, let me fact-check that... OK, accurate, accurate and accurate.
Melissa even nailed Sean's apparent gum-chewing addiction:
Truly, Spicer is a beast fueled by gum and an apparent hatred of Dippin' Dots, which he has repeatedly claimed is NOT the ice cream of the future.
Also parodied were the press secretary's repeated tweeting of his alleged Twitter or Gmail passwords and his insistence Trump received a standing ovation at the CIA headquarters.
This time, Melissa's Spicer claimed the reaction to Trump's Supreme Court nominee Neil Gorsuch aroused an even greater response.
Melissa's vein-popping oratory was pitch perfect and in absolute harmony with Sean's actual approach to the press IRL.
OK, sure, Sean doesn't literally attack reporters with his podium (as much as he might like to).
However, it is worth noting how this press secretary has been particularly evasive (just see Melissa parody Spicer's refusal to call the travel ban a "ban," even though Trump has called it as such) and has often seen the press' accurate reporting of this administration as being somehow personal.
It's good to know while we're constantly worrying about the dangerous direction our nation is heading in, we can still laugh a bit about how fundamentally ridiculous the Trump regime is.
Please, for the love our nation, come back to portray Sean Spicer as much as you see fit, Melissa.
It's an honest portrayal... far more accurate than some of the false statements coming from the White House.