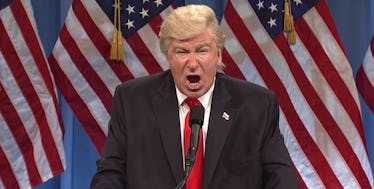 Alec Baldwin Delivers 'Thick Stream' Of Pee Jokes In Last Night's 'SNL' Open
NBC
Last night's cold open of "Saturday Night Live" starred Alec Baldwin (truly an American hero at this point) with his own take on Donald Trump's first press conference as President-elect, which was held earlier this week.
Honestly, I'm surprised Trump hasn't tweeted about it yet. But who knows? The day is still young.
In the sketch, Baldwin got right down to business by saying, "Let me answer the question that's on everyone's mind: Yes, this is real life. This is really happening. On January 20, I, Donald J. Trump, will become the 45th president of the United States. Then two months later Mike Pence will become the 46th."
Hahahahahahaha OK GREAT. I'm not dead inside or anything.
ICYMI, Trump's press conference didn't go well last week. It was held the day after BuzzFeed published a damning dossier accusing Trump of hiring prostitutes to perform golden showers in a Russian hotel room as a means of getting back at the Obamas.
Baldwin and "SNL," never ones to turn down the opportunity to embarrass the living hell out of Trump, spent the entire sketch making pee jokes and just shitting on Trump's existence in general.
It gives me so much life.
Baldwin talked about the upcoming inauguration, aka the beginning of the end.
He said,
Who is excited for my Inauguration Day? We have got some of the biggest performers in the world lined up. Hold on to your tits and bits because we have got 3 Doors Down, Jackie What's-her-face from 'America's Got Talent' and the one Rockette with the least money in her savings.
He also said he has "huge A-List actors coming, like Angelina Jolie, Ryan Gosling and Jennifer Lawrence... courtesy of Madame Tussauds."
LOL.
But no one cares about the lineup. What we really care about is the whole GOLDEN SHOWERS IN A RUSSIAN HOTEL ROOM THING.
And "SNL" knows that. So when Baldwin begins to take questions from the press, Pete Davidson pipes in with, "I'd like to ask you about your big, Russian pee pee party?"
To which Baldwin responds, "No, I am not talking about the pee pee because it didn't happen." (Yeah, OK.) "And it wasn't as cool as it sounds. Next question," he adds.
Vanessa Bayer then chimes in, saying, "Justice Scalia's death has left a vacancy on the Supreme Court and many are wondering about your timeline for a replacement, so I guess my question is... did you guys, like, all pee, or did you just, like, watch them pee?"
God, I love this show.
And then comes Baldwin's long "stream" of pee jokes.
He said, "Guys, no, no, I do NOT want to talk about the pee pee. I want to talk about what's really important which is jobs, OK? Because I am going to bring back a thick stream of jobs back in this country."
"The biggest, strongest, steadiest stream you've ever seen."
"This country will literally be SHOWERED with jobs because I am a major WHIZ at jobs."
"And this will be a GOLDEN opportunity for me as president to make a big SPLASH."
"Now who's with me? I know you're in. You're in? You're in? You're in? You're in? You're in?"
Do you get it??? You're in... urine.
LOL.
They took a (pee) break from the pee jokes to highlight the rest of Trump's ridiculous week.
Like, uh, how he met with Steve Harvey, of all people, to talk about inner cities and housing development. Because, you know, that makes about as much sense as appointing Ben Carson to the Department of Housing and Urban Development.
Keenan Thompson showed up with his perfect Harvey impersonation, saying, "Yeah, I do government now." OK.
And as 2016 has shown us, Trump can't do anything without having Vladimir Putin involved, so Beck Bennett showed up again!
Anddddddd he has the pee pee tapes!!!
When asked if he would admit that Russia hacked the election, Baldwin finally gave in and said that they actually did.
Then Bennett shows up to blackmail him again and Baldwin immediately backtracks by saying, "It was China. No, it was Canada. OK, It was Meryl Streep."
But amid all the pee jokes, the blackmailing jokes and the inauguration jokes was a little golden nugget of truth when Baldwin said to Sasheer Zamata, "Listen, sweetheart, I'm about to be president. We're all going to die."
Hahahahahahahaha. Yeah.