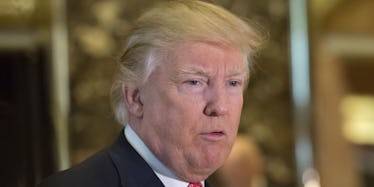 Trump Blackmailed By Russia For 'Golden Showers' With Sex Workers, Says Report
REX/Shutterstock
Donald Trump hired prostitutes to perform a "golden showers" show on a Moscow hotel bed where President Obama and his wife Michelle had once slept, according to an explosive dossier published by BuzzFeed.
The classified document, allegedly put together by a former British intelligence officer, claims Russia has alarming financial and compromising information about the president-elect.
It was put in front of Donald Trump and Barack Obama last week, reports CNN.
One of the claims about Trump's personal life is he took part in sexual exploits at a Ritz Carlton Hotel to get back at the Obamas. It reads,
However, there were other aspects to Trump's engagement with the Russian authorities. One which had borne fruit for them was to exploit Trump's personal obsessions and sexual perversions in order to obtain suitable 'kompromat' (compromising material) on him. According to Source D, where s/he had been present, Trump's (perverted) conduct in Moscow included hiring the presidential suite of the Ritz Carlton Hotel where he knew President and Mrs Obama (whom he hated) had stayed on one of their official trips to Russia, and defiling the bed where they had slept by employing a number of prostitutes to perform a 'golden showers' (urination) show in front of him. The hotel was known to be under FSB control with microphones and concealed cameras in all the main rooms to record anything they wanted to.
This old tweet from Trump has since resurfaced in the wake of the report:
The full dossier, which has not been officially verified, was obtained by Ken Bensinger at BuzzFeed and has allegedly been circulating the intelligence community for months.
Trump's lawyer Michael Cohen laughed off the report, telling Mic,
Somebody is having a lot of fun at your expense. It's so ridiculous on so many levels. Clearly the person who created this did so from their imagination or did so hoping that the liberal media would run with this fake story for whatever rationale they might have.
The information was reportedly gathered so Russian officials have something to blackmail Trump with.
Citations: Michael Cohen, Trump's lawyer, emphatically denies claims in salacious circulated report (Mic), Intel chiefs presented Trump with claims of Russian efforts to compromise him (CNN), These Reports Allege Trump Has Deep Ties To Russia (Buzzfeed)