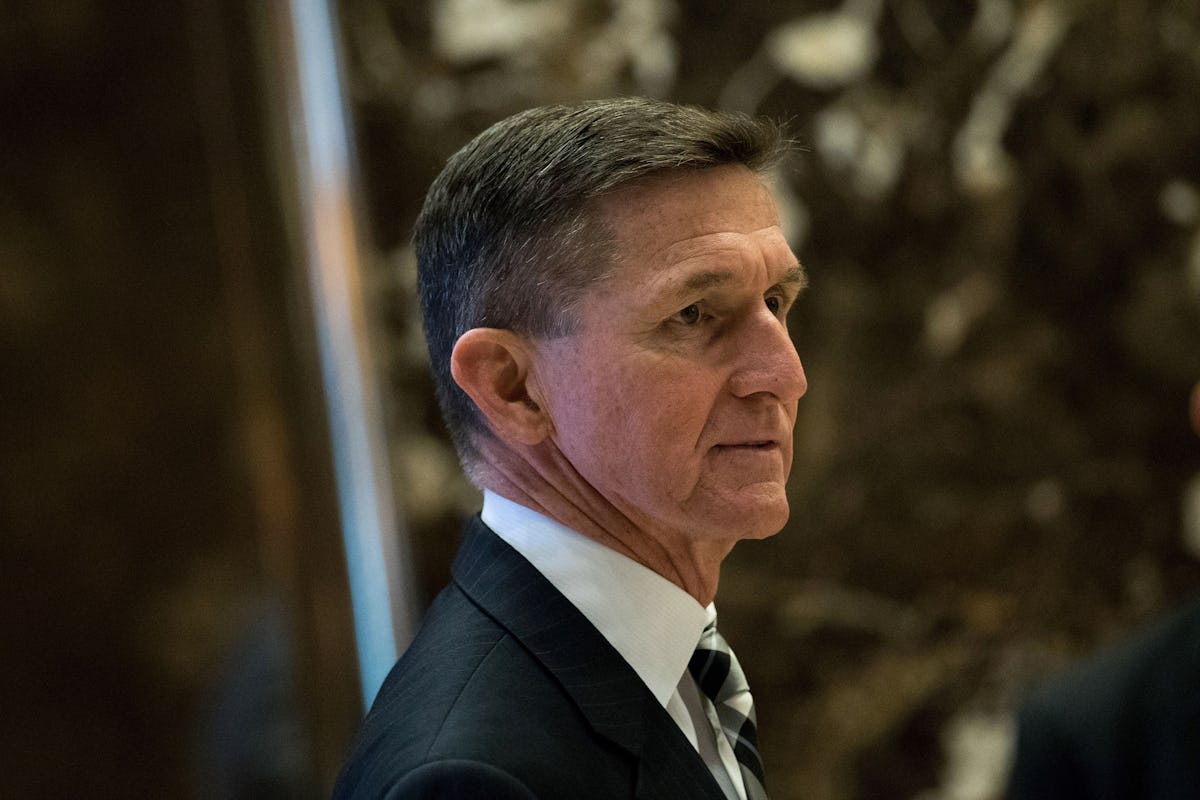 Michael Flynn Will Plead Guilty To Lying To The FBI, So That Doesn't Look Great For Trump
Drew Angerer/Getty Images News/Getty Images
The Department of Justice's Russia investigation has resulted in another charge against an ally of President Donald Trump. On Friday, the department revealed that retired Lieutenant General Michael Flynn, Trump's former national security adviser, was charged with "willfully" making false statements to the FBI. Multiple reports indicated that Flynn would plead guilty to lying to the FBI on Friday morning, Dec. 1. That guilty plea has since been accepted by a judge.
UPDATE: Flynn issued a statement on his guilty plea on Friday. His full statement reads,
After over 33 years of military service to our country, including nearly five years in combat away from my family, and then my decision to continue to serve the United States, it has been extraordinarily painful to endure these many months of false accusations of "treason" and other outrageous acts. Such false accusations are contrary to everything I have ever done and stood for. But I recognize that the actions I acknowledged in court today were wrong, and, through my faith in God, I am working to set things right. My guilty plea and agreement to cooperate with the Special Counsel's Office reflect a decision I made in the best interests of my family and of our country. I accept full responsibility for my actions.
EARLIER: Flynn's tenure as Trump's national security adviser ended via resignation in February, less than a month after the president was inaugurated. The resignation came after Flynn was embroiled in controversy regarding his conversations with a Russian ambassador while Trump was president elect.
The Department of Justice's charge against Flynn, which is related to those conversations, reads,
On or about January 24, 2017, defendant MICHAEL T. FLYNN did willfully and knowingly make materially false, fictitious, and fraudulent statements and representations in a matter within the jurisdiction of the executive branch of the Government of the United States, to wit, the defendant falsely stated and represented to agents of the Federal Bureau of Investigation [FBI], in Washington, D.C.
The investigation is being led by former FBI Director Robert Mueller, who was appointed as the special counsel to independently oversee the probe after James Comey was fired as FBI director earlier this year.
What Flynn Is Charged With Lying About
The full count against Michael Flynn details what the FBI determined he lied to investigators about. According to the count, Flynn made false statements in January about whether or not he'd told a Russian ambassador to not retaliate against former President Barack Obama a month before, in December 2016.
That December, Obama expelled 35 Russian diplomats from the U.S., an action taken in response to the American government's conclusion that Russia sought to interfere in the 2016 presidential election.
The charge also says that Flynn lied to investigators about whether or not he'd spoken to a Russian ambassador about how Russia would respond to a United Nations resolution against Israel in December 2016. At the time, the U.S., under Obama, supported the resolution.
The charge indicates that while President Trump was preparing to enter the White House, an incoming member of his cabinet had been undermining the positions of the outgoing president.
Flynn's Plea May Result In Cooperating With The Investigation
Days before Flynn's expected guilty plea was reported, a separate report indicated that the former national security adviser had shown signs of working on a deal to cooperate with Mueller's investigation. One of the signs, according to report from the New York Times on Thanksgiving day, was that Flynn's legal representatives had told Trump's legal team that the two parties could no longer discuss matters related to the Russia investigation.
After Flynn plead guilty on Friday morning, ABC News reported that the former Trump cabinet member has indeed agreed to cooperate with Mueller's investigation.
What Flynn's Plea Means For President Trump
Michael Flynn's guilty plea represents the first time a member of President Trump's White House has been charged as a result of the Department of Justice's Russia investigation. Until Friday, Mueller's probe had only resulted in charges against three other figures related to Trump's presidential campaign, including former campaign manager Paul Manafort.
CNN's Jim Acosta reported that a source close to the White House reacted to the news by saying, "Poor judgement. But this was expected. Trump fired him for lying to the VP. Of course, he lied to the FBI too."
Flynn's expected cooperation with the investigation is an indicator that the former national security adviser could aid Mueller in implicating another person related to President Trump's campaign or White House team.