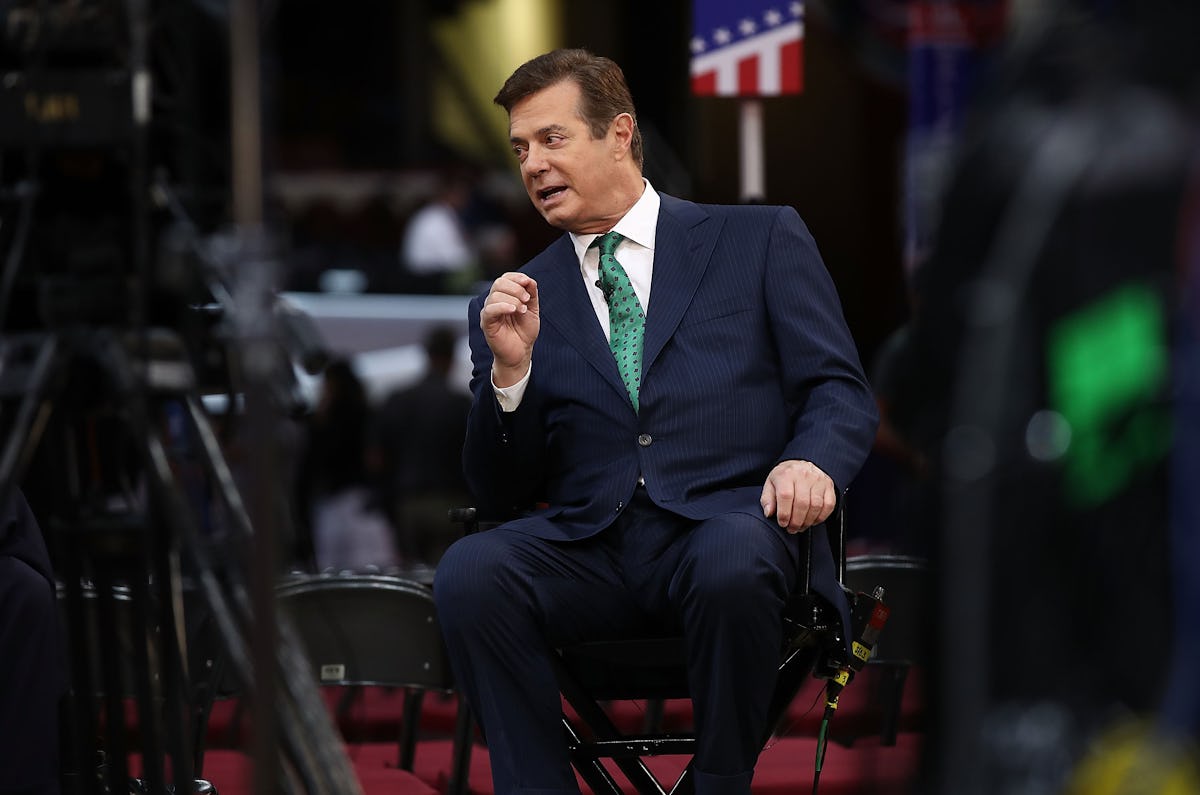 Trump's Former Campaign Manager Was Charged In Trump-Russia Investigation
Win McNamee/Getty Images News/Getty Images
On the morning of Monday, Oct. 30, Donald Trump's former campaign manager, Paul Manafort, was indicted as part of the special counsel investigation into possible collusion between the Donald Trump campaign and Russia in an effort to influence the 2016 presidential election. Manafort surrendered to the FBI after word got out that he was the target of the first charges filed in the agency's investigation into alleged Russian meddling during the 2016 election. Also charged was Manafort's business associate, Rick Gates.
Per The New York Times, Manafort was spotted surrendering to the FBI around 8:15 a.m. ET. Just after 9 a.m., ABC tweeted that Manafort and Gates were facing 12 charges. The official Justice Department documents have been released, showing a spate of charges against the two men that have serious implications.
In the 12 counts against them, Manafort and Gates have been charged with counts of conspiracy against the U.S. and money laundering. Money laundering can carry a prison sentence of up to 20 years. The men have also been charged with 4 and 3 counts of failure to file reports of foreign banks and financial accounts, respectively, as well as making false and misleading statements. In listing the charges, the document states that, from roughly 2006 to 2017, Manafort and Gates:
....knowingly and intentionally conspired to defraud the United States by impeding, impairing, obstructing and defeating the lawful government functions of a government agency...
Just before 9 a.m., BuzzFeed first reported that companies linked to Manafort made 13 suspicious wire transfers between 2012 and 2013, making them one focus of the FBI's investigation. The wire transfers reportedly moved about $3 million around the globe.
Manafort has been the subject of interest for the FBI since 2012, according to BuzzFeed, to probe for his possible involvement with Ukrainian and Russian officials.
Included in the report, as one user on Twitter pointed out, are suggestions that Manafort used a $2.8 million Manhattan property as an AirBnb rental from January 2015 through 2016. (Who else is dying to know what that stay was like?) This report has yet to be confirmed.
Back in September, the Times reported that Manafort was anticipating charges against him. This followed news on Sept. 18 that the FBI had wiretapped Manafort two times, before and after the 2016 election.
In August, it was reported that Mueller and his team had conducted a raid of Manafort's Virginia home the month prior. On July 12, news came out that Manafort was copied on an email thread that promised information on Trump's opponent, Hillary Clinton. Manafort agreed in March of this year to be interviewed by both Congressional intelligence committes.
Manafort took over the reins as Trump's campaign chair in May 2016 and was involved in the campaign since March 2016. Much hinges on a June 2016 meeting between Russian lawyer Natalia Veselnitskaya and members of the Trump campaign, including Donald Trump, Jr., Jared Kushner, and Manafort. Veselnitskaya had promised "dirt" on Clinton. Many Russian and Russian-connected individuals attended or assisted in setting up the meeting, the Times reports, and the connections between the two sides has long existed.
In a March interview with the news outlet, Trump Jr. denied any meetings with Russian officials. He said,
Did I meet with people that were Russian? I'm sure, I'm sure I did. ... But none that were set up. None that I can think of at the moment. And certainly none that I was representing the campaign in any way, shape or form.
In August 2016, Manafort resigned from Trump's campaign amid allegations that he had accepted $12.7 million in undisclosed payments from a pro-Russian Ukrainian political party.
People on Twitter are having a field day with the news.
It's unclear at this point if others will be indicted, given that the Justice Department document implies that Manafort and Gates didn't act alone. But per the Times, Trump's lawyer seems confident that the president is safe.