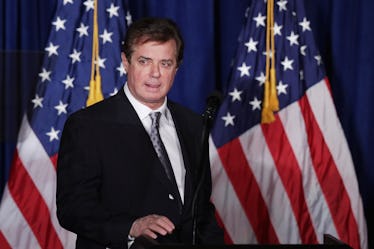 The First Charges In The Trump-Russia Investigation Were Made & Twitter Is Cheering
Chip Somodevilla/Getty Images News/Getty Images
Finally, on Monday, Oct. 30, the first charges were made in the special counsel investigation into possible collusion between the Donald Trump campaign and Russia to influence the 2016 presidential election. In these first charges, Paul Manafort and Rick Gates were charged, according to The New York Times. The exact charges made against Manafort and Gates weren't made public immediately on Monday morning, but could be announced later in the day on Monday, Oct. 30, according to CNN. Manafort surrendered to federal authorities on Monday morning, the Times reports.
UPDATE: The indictment was made public Monday morning, and shows 12 charges against Gates and Manafort, including conspiracy against the United States, conspiracy to launder money, unregistered agent of a foreign principal, false statements, and failure to file reports of foreign bank and financial accounts.
EARLIER: The indictments against Gates and Manafort were highly anticipated, coming from the special counsel investigation, which is led by Robert Mueller. Mueller has been leading this investigation for months since he was first appointed to the case in May, much to the president's chagrin. On Sunday, Oct. 29, President Trump tweeted wildly about the Mueller investigation, referring to investigations into possible collusion between his team and Russia as a "Witch Hunt for evil politics." The charges were also highly anticipated because the public spent the weekend aware that the charges were coming. It had been reported that charges were made on Friday and that they could be public as early as Monday, so interested parties spent the weekend making popcorn and eagerly awaiting the announcement.
Of course, the tweets flowed throughout the waiting period.
In case you forgot, which is reasonable given the revolving door of Trump's associates, Manafort was part of the president's campaign for a brief but noticeable time during the 2016 election cycle. He initially joined Trump's campaign in March 2016 and became campaign manager in June 2016, following the firing of Corey Lewandowski. But then, around August 2016, news came out that Manafort had worked for former Ukrainian President Viktor F. Yanukovych, who supported Russia and Vladimir Putin. The news was generally controversial. And so, on Aug. 19, 2016, Manafort left Trump's campaign. Gates, meanwhile, got caught up on the Manafort train. Manafort was his mentor and Gates was a junior partner in business.
Video shows Manafort turning himself in on Monday morning:
Things had been looking bad for Manafort for some time now. In addition to the 2016 reporting about his overseas work, reports from this past summer showed investigations moving in on him. In early August 2017, it was reported that the FBI raided Manafort's Virginia home on an early morning in late July. A spokesperson for Manafort said in a statement to ABC News at the time,
FBI agents executed a search warrant at one of Mr. Manafort's residences. Mr. Manafort has consistently cooperated with law enforcement and other serious inquiries and did so on this occasion as well.
Manafort was also being investigated for violating federal tax law, laundering money, and disclosing foreign lobbying properly, according to The New York Times. Additionally, Manafort was part of the controversial meeting between Donald Trump Jr. and Russian lawyer Natalia Veselnitskaya, which also included Jared Kushner, husband of Ivanka Trump, in summer 2016. So, yeah, things were not looking great. In fact, the Times reported in September that Manafort was waiting to be charged in the Mueller-Russia investigation. His lawyer did not respond to a request for comment from the Times at the time.
As the news of the charges against Manafort and Gates came out on Oct. 30, all those people who had been anxiously waiting to see who'd be hit took to Twitter to scream and shout about it.
And lots of people, for whatever reason, felt it totally apt to bring back up this August 2016 tweet from Fox News host Sean Hannity.
Good to remember in these times, I suppose!
The special counsel investigation remains largely under wraps, and it's unclear exactly what these charges mean for the rest of the investigation. But you can probably keep the popcorn coming for now.