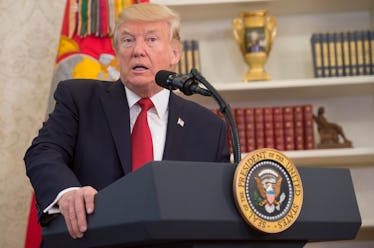 First Charges Expected In Russia Investigation, & Trump's Tweets Are Totally Bonkers
SAUL LOEB/AFP/Getty Images
Another day, another Donald Trump Twitter tirade. Back in May, Deputy Attorney General Rod Rosenstein appointed Robert Mueller as special counsel to probe possible Russian involvement in the 2016 presidential election. And we now know that things are definitely heating up, after reports that a federal grand jury has approved the first charges that have come out of the investigation. And, you guessed it, Trump's tweets about the Russia investigation charges could not be more ridiculous.
While it is unclear who is being indicted and what the charges are, we do know that the first charges could come as soon as Monday, according to a CNN report on Oct. 27. This is a pivotal moment in the investigation and has all of Washington talking — including Donald Trump (naturally).
Trump took to Twitter on Oct. 29 once word got out about those expected charges and, well, went bananas. The President sent out a series of tweets calling the allegations of his campaign's ties to Russia non-existent and "phony." He also took aim at Hillary Clinton and her own supposed links to Russia, insisting that an investigation on her should be launched.
In the tweets, Trump accused politicians of undermining the reports of Clinton's own alleged connections to Russia. He references reports that Clinton's campaign and the Democratic National Committee (DNC) financed the Steele dossier, a collection of memos that concern Trump's alleged possible ties to Russia. He also states that the announcement of the forthcoming indictment is merely a way to slam his administration and distract from Republicans "big push for historic Tax Cuts & Reform." He writes in his tweet, " Is this coincidental? NOT!"
Of course, Trump may have gone on this Twitter rampage as a means of causing a distraction himself.
But it will definitely be harder to deflect discussion about the investigation once the official indictments are announced.
Although an indictment only means that a jury believed that there was enough evidence to file charges — not a confirmation of a crime — it does mean that Mueller will formally accuse someone (likely someone who was associated with Trump during his presidential campaign) of a serious crime, which even by itself is significant.
There's a lot of speculation on who is to be charged, but all signs are currently pointing toward Trump's campaign manager, Paul Manafort. Buzzfeed News reports that Manafort has been red flagged multiple times by financial institutions, and that investigators are zeroing in on at least 13 wire transfers from 2012 to 2013.
This is not the first time that Manafort has been targeted during the investigation. On July 26, his Virginia home was raided by the FBI, who had a warrant to seize materials as evidence to support Mueller's investigation. According to The Hill, agents left with records after they entered the home without warning. In fact, Mueller himself reportedly warned Manafort that he should expect an indictment following the raid, so it's reasonably likely that he will be the first person to be named in the investigation.
News of this indictment announcement has been in the making for well over a year. The FBI began their investigation into possible collusion between Trump's presidential campaign and Russian officials back in July 2016, while James Comey was the director of the bureau. The FBI suspected that Trump's campaign could have possibly colluded with Russia in order to sway the result of the election. The investigation was revitalized in January after Trump took office, and when Trump abruptly fired James Comey in May of this year, the cause for investigation escalated.
Bob Mueller, who served as FBI director from 2001 to 2013, was appointed as special counsel to lead the investigation just days after Trump axed Comey.
While speculation will continue until the official indictments are announced, we definitely know that Trump is worried, as evidenced by his tweets.
For now all we can do is wait patiently and wait for our notifications to blow up come Monday.