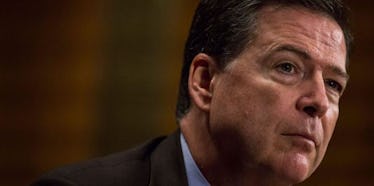 All Of The Possible Reasons Why Trump Fired FBI Director James Comey
Getty Images
President Donald Trump fired FBI Director James Comey on Tuesday.
This was a highly controversial move that has led to Watergate references and discussions of impeachment.
It's not yet clear who will replace Comey, but whoever Trump ends up selecting will face serious questions about where his or her loyalties lie.
The major question people have about this is simple: Why was Comey dismissed?
Providing an answer, however, is decidedly more complicated.
The Trump administration claims he fired Comey for mishandling the investigation into Hillary Clinton's use of a private email server and the fact he wasn't doing "a good job."
Many aren't buying this, since Comey's actions arguably helped Trump win the election.
Not to mention, Trump once praised Comey for how he handled the Clinton email investigation.
Some think Trump fired Comey because he was leading an investigation to see if there was collusion with the Trump campaign and Russia in relation to its interference in the 2016 US presidential election.
Senator Elizabeth Warren said, "Comey was not fired because of Hillary. Comey was fired because of the Russians."
There isn't conclusive evidence to support this belief, but there are valid reasons to remain suspicious.
Attorney General Jeff Sessions, who recused himself from any investigation surrounding the Trump campaign and Russia, was reportedly charged with coming up with reasons to fire Comey. This has prompted outrage.
Russian President Vladimir Putin said Russia had nothing to do with the firing of Comey.
Meanwhile, the rest of the Trump administration has scrambled to offer an explanation.
Press Secretary Sean Spicer reportedly hid from reporters in the bushes at the White House on Tuesday evening to avoid addressing the situation.
Comey definitely hurt the FBI's reputation, and there were arguably justifiable reasons for firing him, but questions about the timing of this, among other issues, remain.
It's certainly possible Trump was simply angry at Comey and disliked him given he admitted to the Senate the FBI was investigating his campaign.
On top of this, it's conceivable Trump was embarrassed by Comey when he said he had "no evidence" to support the president's tweets that claimed former President Barack Obama wiretapped him.
When it comes down to it, we don't have a reliable, definitive answer as to why Comey was fired.
The Trump administration's justification for dismissing Comey does not add up and the timing is undeniably suspicious.
But, as of yet, we also have no way of definitively proving he was fired for not backing down in his investigation of the Trump campaign's possible collusion with Russia.
Right now, all we can do is work with the facts we have, and the fact is: this entire situation seems really fishy.
With that said, there are now calls for an independent investigator or commission into possible ties between Trump's campaign and Russian election interference, which might be the only way to get the answers to an array of questions about Comey's firing and beyond.
Citations: Firing Fuels Calls for Independent Investigator, Even From Republicans (The New York Times)