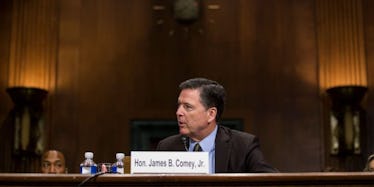 Here's How The FBI Director Gets Selected, Now That Comey Was Fired
Getty Images
President Donald Trump fired FBI Director James Comey on Tuesday.
Comey had one of the shortest tenures as FBI director in US history.
The last time a president fired an FBI director was 24 years ago, when Bill Clinton was in office.
That was the first time an FBI director had been dismissed by a president, making Comey's firing the second time in US history such an event has occurred.
The Trump administration said the rationale for his dismissal was Comey's mishandling of the investigation surrounding Hillary Clinton's use of a private email server.
Many feel this is a laughable justification, given Comey's actions surrounding this investigation helped Trump win the election.
Kimmel: "One reason he gave … is because he mishandled Clinton email situation. That would mean Trump fired Comey for making him president." pic.twitter.com/s78iRHJetj — Dan Diamond (@ddiamond) May 10, 2017
Not to mention, in October, Trump said Comey "did the right thing" and had "a lot of guts" in terms of how he handled the Clinton email investigation.
There's also the fact Comey was leading an investigation into the Trump campaign's possible collusion with Russia regarding its interference in the 2016 US presidential election.
Given all this, many questions remain about the true motive behind Comey's ousting.
Many have compared what occurred with Comey to events that transpired under Nixon that ultimately led to his resignation (he was facing impeachment).
Regardless of the concerns surrounding why Comey was fired, the FBI will need a new director.
Andrew G. McCabe, who served as deputy director under Comey, is now acting director in the wake of Comey's dismissal.
McCabe joined the FBI in 1996 and was made deputy director last year.
He will remain acting director until a permanent director is selected.
The director of the FBI is appointed by the president and confirmed by the Senate.
It's not yet clear who Trump will select to be the new director.
But on Wednesday morning, Trump tweeted Comey will be "replaced by someone who will do a far better job."
There are worries that Trump will replace Comey with someone who is compromised, in the sense he or she will not be impartial toward the administration.
This means Trump's in a very tough spot, and will face a great deal of scrutiny regardless of who he ultimately selects.
Long story short, the US government is kind of in complete chaos right now under the leadership of Donald Trump.
Citations: F.B.I. Director James Comey Is Fired by Trump (The New York Times)