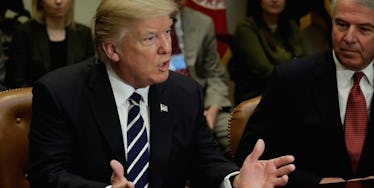 Here's Why People Are Saying Trump's Latest Action Is A Sign He'll Be Impeached
REUTERS
On Monday, January 30, President Donald Trump fired Acting Attorney General Sally Yates after she refused to stand by his travel ban for refugees and people from seven predominantly Muslim countries.
She'd instructed Justice Department lawyers not to defend the travel ban, and Trump responded by sacking her, arguing she "betrayed the Department of Justice."
Yates was replaced by Dana Boente, who will serve as acting attorney general as Senator Jeff Sessions awaits confirmation.
Unlike Yates, Boente is willing to defend Trump's travel ban.
This was an extremely controversial series of events. Many began referring to what happened to Yates as the "Monday Night Massacre."
The name "Monday Night Massacre" is a reference to the events of Oct. 20, 1973, an infamous date in the history of US politics, when President Richard Nixon ordered the firing of Archibald Cox.
At the time, Nixon was being investigated over his involvement in the Watergate scandal, and Cox was the special prosecutor handling the case. Nixon had ordered Cox to stop the investigation, but he refused. So, Nixon ordered Attorney General Elliot Richardson to fire Cox.
Instead of complying, Richardson and Deputy Attorney General William Ruckelshaus resigned in protest of Nixon's actions.
Solicitor General Robert H. Bork, serving as acting attorney general in their absence, fired Cox and Nixon disbanded the special prosecutor's office that night.
That day became known as the "Saturday Night Massacre," and it set the stage for Nixon to resign less than a year later as he faced the prospect impeachment.
There are clear parallels between what happened with the "Monday Night Massacre" and the "Saturday Night Massacre," and some immediately began calling for Trump's impeachment on Twitter after the news about Yates broke.
There has also been a recent surge in searches for "impeach" and "how to impeach Trump" on Twitter.
People are obviously giving this topic a great deal of thought, with some already saying it's "inevitable."
At the moment, it's hard to say how much of a possibility Trump's impeachment really is.
According to Article II of the US Constitution, a president may be impeached if he or she is convicted of "treason, bribery or other high crimes and misdemeanors."
Presently, no one can definitively say whether or not Trump committed an impeachable offense, although some people are certainly already arguing that he has.
Long story short, whether the "Monday Night Massacre" will be as detrimental to Trump as the "Saturday Night Massacre" was to Nixon remains to be seen.
But, it's pretty clear that a lot of people do not think Trump is fit to be president. He has the lowest approval rating of any new president in modern history, and Monday's events certainly didn't help in that regard.
The US government is in crisis, less than two weeks into Trump's presidency. These are troubling times.
Citations: Talk Of Impeaching Trump May Be Premature, But Its Time Will Come (Huffington Post), The Inevitability Of Impeachment (Huffington Post), 'Monday Night Massacre'? After Firing of Yates, Nixon's Sordid Moment Has Been Repurposed For Trump (Washington Post), After Yates ouster, new acting AG Dana Boente says he will 'defend and enforce' laws (USA Today), Dana Boente: Who Is the New Acting Attorney General? (New York Times)