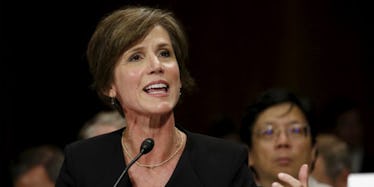 Trump Fires Attorney General For Not Defending Ban, Says She 'Betrayed' DOJ
Reuter
Attorney General Sally Yates stunned the Trump administration when she announced the Justice Department would not defend President Donald Trump's executive order to ban incoming refugees and immigrants from certain nations.
According to the New York Times, Yates wrote to Justice Department lawyers,
I am responsible for ensuring that the positions we take in court remain consistent with this institution's solemn obligation to always seek justice and stand for what is right. At present, I am not convinced that the defense of the executive order is consistent with these responsibilities nor am I convinced that the executive order is lawful.
Yates, who was appointed by former President Barack Obama, knew full well this could result in her being fired from her position.
While it isn't surprising Trump has terminated Yates after she stood against his unconstitutional ban, and thus upheld the law, it is surprising it happened so swiftly.
Trump agreed to keep Yates' on her job until his pick for attorney general, Senator Jeff Sessions (R-Al.), was confirmed by Senate.
Instead of upholding the agreement, Trump has appointed Dana Boente, US Attorney for the Eastern District of Virginia, to serve as attorney general until Senator Sessions is confirmed.
Senator Sessions was considered too racist to be a judge in 1986.
Firing Yates after she announced the DOJ wouldn't defend Trump's ban possibly shows the president does not respect the department's prosecutorial independence and would rather have another "Yes Man" in his pocket.
In a statement released on Donald J. Trump's Facebook page, he says Yates "betrayed" the Department of Justice.
Trump's ban is already facing a number of lawsuits, and multiple courts have issued orders to release people who have been detained.
The executive orders have sparked protests across the United States.
Democrats and a number of Republicans have attacked Trump's order, with a few coming to Yates' defense including Senator Richard Blumenthal (D-Ct.).
Trump's pick for attorney general, Senator Sessions, opposes marriage equality, is a climate change skeptic, is anti-abortion and doesn't support criminal justice reform or marijuana legalization.
He also once fought against legal immigration -- because, fuck it, his white ass made it to America so screw everyone else.
Citations: Trump fires acting US Attorney General Yates, White House says she 'betrayed' DOJ (CNBC)