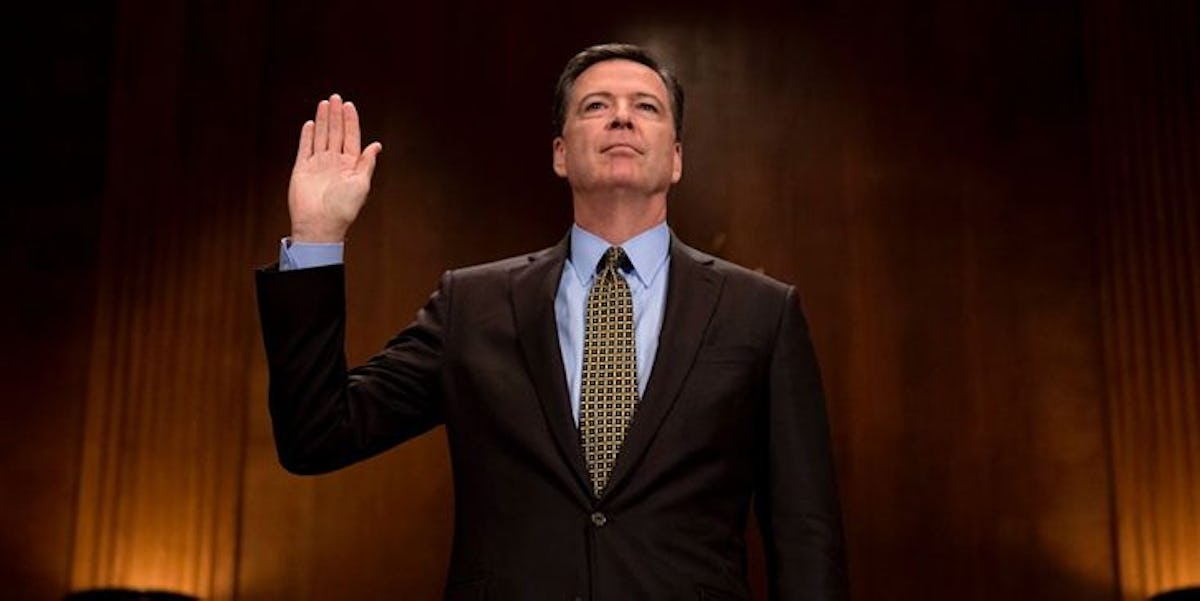 The 10 Craziest Things FBI Agents Have Said About James Comey's Firing By Trump
Getty Images
Regardless of who was for or against President Trump firing FBI Director James Comey, practically everyone who took in the news yesterday has one thing in common.
The story caught us all off-guard.
The firing was unexpected, to say the least, especially when considering Comey was in the midst of conducting an investigation into potential tries between the Trump campaign and Russia.
That context, the timing and the sudden nature of Trump's decision led to some pretty incredible reactions from not only politicians but also former FBI professionals.
One by one, journalists cited intelligence community sources who delivered these bombshell quotes.
A cover up?
NBC's Ken Dilanian, for example, said on Twitter that one former FBI employee essentially opined that Trump was looking for a way to shut down the investigation.
USA Today's Brad Heath also had an interesting quote from a former FBI official
One current professional was reportedly crying.
In a story reported by Politico's Josh Meyer and Darren Samuelsohn, a "longtime special agent" was quoted as saying,
I'm literally in tears right now. That's all I have to say.
"Insane."
While reporting on air on Tuesday, MSNBC's Ari Melber said a former FBI official (who Melber noted was loyal to Comey) called the decision "insane" and wondered whether it could amount to "obstruction" of justice.
All about the investigation.
CBS News reported on Tuesday that one FBI agent believes Trump simply wanted "his own man on there" to help sweep away the investigation into ties to Russia.
I think he got rid of him because of the Russian investigation. They are trying to circle the wagons.
"B.S."
That same CBS report cited another person familiar with Comey. This time, it was a current special agent who weighed in, saying,
I am not happy. I think this is bullshit. We are living in partisan times. Both sides criticized the director; that's why he should still be in the job. The vast majority of the bureau is in favor of director Comey.
"Painful."
On CNN, network contributor and former deputy director at the National Security Branch of the FBI Phil Mudd told anchor Chris Cuomo, that Wednesday was a "painful day" for America.
According to Media Matters, Mudd said,
Look, this is a painful day for America. This story is simple, it's not about confidence in the FBI, it's about politics over the rule of law.
Breaking the rules.
CNBC Washington correspondent Eamon Javers told his Twitter followers that one former FBI official said that Comey's firing shows the Trump "administration simply doesn't play by the usual rules."
Not looking good.
Former FBI agent Ali Soufan arguably implied to the Atlantic that the next FBI director would have the power to attend to President Trump's political prerogatives, despite the fact that the FBI director's role was built in a way to avoid political influences.
An FBI director can kill any investigation. It does not look good when the White House fires an FBI director who is investigating the White House. It is a tenured job to insulate the director from politics.
The "only" explanation.
In a report by the Telegraph, Austin Berglas, a former FBI supervisory agent, said there's only one reasonable conclusion to draw from Tuesday's news.
Berglas said,
Trump praised him for the work on the email investigation, so that's not it. I think he realized the extent of the Russia investigation under way and moved him out. To me, that's the only logical explanation right now.
What a time to be alive.
Citations: FBI director James Comey fired by Donald Trump (Telegraph), Trump Fires FBI Director James Comey (The Atlantic)