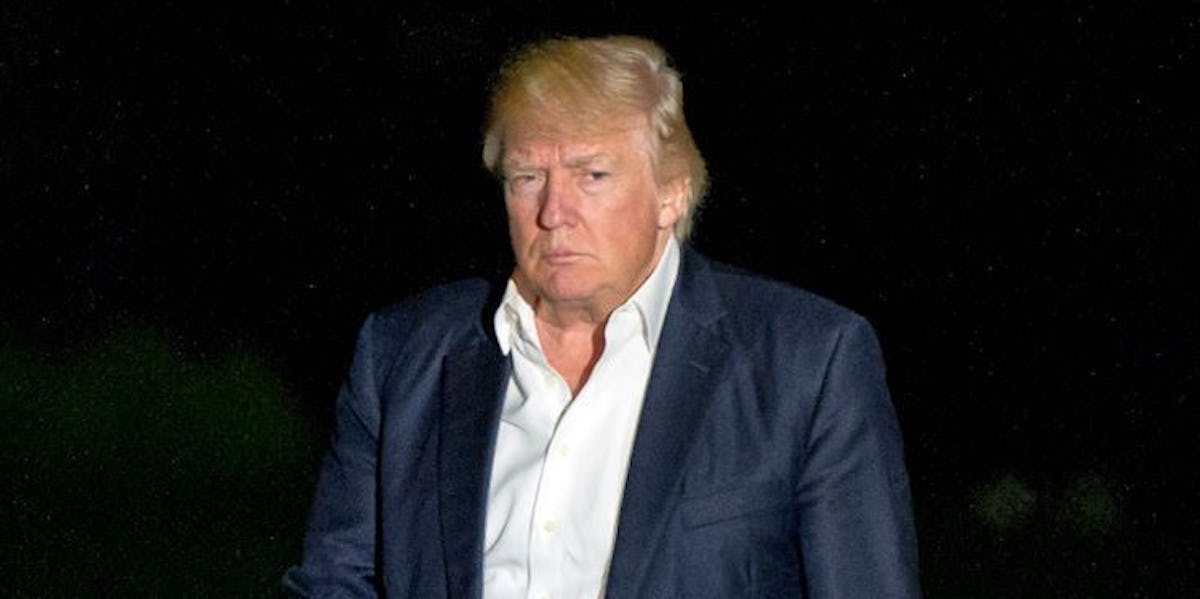 People Think Trump Will Get Impeached Now That He Fired The FBI Director
Getty Images
President Donald Trump fired FBI Director James Comey under highly dubious circumstances on Tuesday, which has prompted Watergate references and discussions of impeachment.
Trump justified Comey's dismissal by citing his mishandling of the investigation of Hillary Clinton's use of a private email server.
It's widely agreed Comey did a poor job in this regard, but many find it hard to believe this is the only reason why he got dismissed due to the fact his conduct arguably helped Trump win the election.
On top of this, people are questioning the timing because Comey was leading an investigation into the Trump campaign's possible collusion with Russia in relation to its interference in the 2016 US presidential election.
What's more, Comey reportedly asked for more funds for the investigation several days prior to his dismissal.
Comey had one of the shortest stints as FBI director in US history.
It's not clear who will replace him, but whoever Trump selects will face a great deal of scrutiny over concerns he or she will take it easy on the administration.
The last time an FBI director was fired was 24 years ago, when Bill Clinton was president. This is just the second time in history an FBI director has been ousted.
In short, this is a rare and troubling moment in American history.
Because Trump fired the FBI director who was investigating his campaign, many are comparing what happened to events that transpired under Richard Nixon.
On October 20, 1973, President Richard Nixon ordered the firing of Archibald Cox, the special prosecutor leading the Watergate investigation.
Nixon had ordered Cox to suspend the investigation, but he refused.
Subsequently, Nixon ordered Attorney General Elliot Richardson to fire Cox.
This led Richardson and Deputy Attorney General William Ruckelshaus to resign in protest.
Solicitor General Robert H. Bork, serving as acting attorney general after their departure, then fired Cox, and Nixon disbanded the special prosecutor's office that night.
This was highly controversial, and the day became known as the "Saturday Night Massacre."
The Watergate scandal ultimately led Nixon to resign while facing the prospect of impeachment.
Many feel Trump's actions have echoes of this event, in the sense both presidents had individuals leading investigations surrounding them fired.
Some observers feel Trump arguably engaged in obstruction of justice by firing Comey, which could be grounds for impeachment.
Speaking on Comey's firing, Democratic Representative Al Green argued Trump's actions could constitute an "impeachable offense" if the president "is found to have done this to circumvent this investigation, to thwart to the efforts to get the bottom of this."
He was referring to the FBI's investigation into the Trump campaign's alleged collusion with Russian interference in the election.
On the other hand, some also think we should be wary of comparing this to Watergate.
Veteran journalist Tom Brokaw urged people to "deal with the facts as we know them," which is always sound advice.
With that said, the facts are unsettling at the moment, and many questions remain unanswered.
Comey's firing will remain a controversial subject for the Trump administration for many days to come.
Citations: Democratic congressman: 'Impeachable' if Trump fired Comey to stop Russia investigation (CNN)