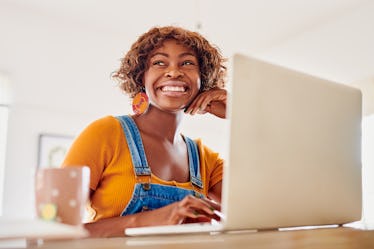 This Is The FaceTime Date You'll Love, Based On Your Zodiac Sign
LaylaBird/E+/Getty Images
Date nights through a screen can feel limiting, but the possibilities for fun FaceTime dates are actually endless. While it's easy to write off digital dates as second-best, they're actually wonderful opportunities to get creative. Being separated from your crush or partner can be prime time for experimenting with how you spend quality time. A solid way to narrow down these seemingly endless possibilities? Astrology. Each zodiac sign's ideal FaceTime date is one that distinctly reflects their interests and vibe.
Even if they're stuck behind a keyboard, fire signs like Aries, Leo, and Sagittarius will still want to go on a date that gets both your hearts racing. Earth signs like Taurus, Virgo, and Capricorn will still gravitate toward the same intense, physical projects or intellectual pursuits as they would IRL.
Meanwhile, leave it to the water signs, Pisces, Cancer, and Scorpio, to want to keep spilling their feelings as freely as they always do. And even though digital dates aren't as exhilarating for them as dates IRL, air signs like Gemini, Libra, and Aquarius are just happy to have a little face-to-face connection. Here are the activities each zodiac sign thinks are just perfect for FaceTime date night. Take notes.