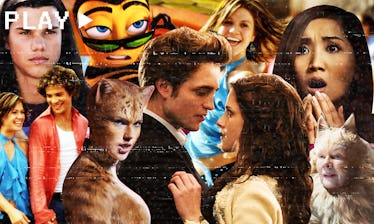 Actually, These "Bad" Movies Are Perfect For Your Next Virtual Watch Party
Getty Images/Elite Daily
In the midst of the coronavirus pandemic, one of the easiest ways to be social while social distancing is to have a virtual movie night. Rounding up your friends isn't too hard, since nobody has plans anymore, but the real issue comes when choosing the perfect film for the occasion. Luckily, these virtual hangouts are usually more for catching up and joking around with your friends than seriously watching something together, and that's why watching "bad" movies during quarantine watch parties is actually the best option right now.
Usually, staying in to watch movies is the opposite of being social, but with everyone confined to their homes, virtual watch parties on video chatting apps like Zoom or Skype have become the new norm. There are even extensions like Netflix Party and sites like Kosmi that make it easy for users to watch all kinds of content together. But in my experience, there's a specific type of movie that works best for this kind of digital experience. I'm talking about the "so bad they're good" films, the ones that were torn apart by critics but developed a cult following for just how ridiculous they are.
There reason these "bad" movies are perfect for quarantine watch parties is two-fold: First, they invite commentary, and second, they don't require all that much attention. A virtual watch party is a rare time to call up your friends, after all, so you're going to want to make the most of it by chatting and cracking jokes throughout the film, and these movies allow you to do just that, without worrying about missing anything super-important, since they're too out-there to make any sense even if you were watching intently.
These films may have scored low with the critics, but will get a 10/10 during your next wild watch party.