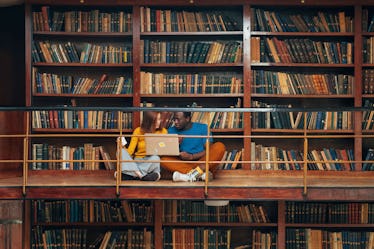 5 Things To Know About Dating An Air Sign That'll Make It A Breeze
Charming, talkative, and mysterious when it comes to their emotions, air signs give their crushes so much to fall in love with, and so much to wonder about. If you're thinking about cuffing up a Libra (Sept. 23 - Oct. 22), Aquarius (Jan. 20 - Feb. 18), or Gemini (May 21 – June 21), there are a few things to know about dating an air sign you might want to write down before you dive in. Because just like a gust of wind, air signs are constantly on the move when it comes to their intellectual pursuits.
Air signs are all about connecting with others, so they love to soak up all kinds of books, TV shows, and films in order to have plenty to talk about. That's why, when dating an air sign, you can expect hella movie dates, panels on niche subjects they're interested in, or leisurely strolls through a museum.
Air signs also love to be in the loop. Whether it's the backstory behind Kim K's most recent Instagram, or the latest political scandal, air signs take pride in being in the know. As a partner to an air sign, you'll always have the tea by proxy. You'll also get to see them shine in social situations, whether they're showing off their sparkling personality or enlightening everyone with obscure fun facts. Here are five more things to know about dating an air sign. (Spoiler: You'll love them.)