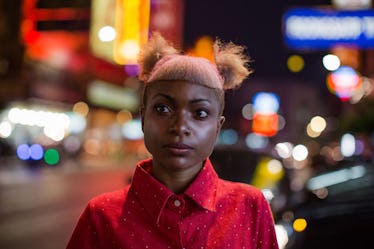 9 Signs You Care More About Locking Down A Relationship Than Finding Chemistry
If you're early in the relationship process — say, you moved things off Tinder fairly recently or have gone on a couple of pleasant dates — and you find yourself daydreaming about how to finesse the "girlfriend," "boyfriend," or "partner" label, ask yourself one thing: Do I want a relationship or am I just lonely? To be fair, society puts an undue pressure on women and femmes to be coupled up. But beyond external, societal pressure, sometimes you can put pressure on yourself.
A relationship can be a status symbol: Along with having an academic career, a job, and a social life on point, you get to add "successful love life" to the list. Sometimes, you might racing to the DTR finish line because you're sick of the gray area in your situationship or FWB arrangement — you want something more solid. Or, you're tired of being the only single Pringle in your coupled-up crew.
Other times, it could just be a matter of loneliness. "Being in a relationship is one of the most meaningful experiences we can have as human beings," sex and relationships therapist Todd Baratz says. "Therefore, it is not uncommon for folks to pursue relationships just to be in one or provide protection against loneliness." It's why cuffing season exists. And it's often easier to latch onto the first semi-viable fling (that has potential for a romantic partnership) than to be alone, if being alone isn't your jam.
"This isn't necessarily a bad or unhealthy thing to do. It's important, however, to pay attention to relationship pursuit behaviors that make you unhappy," Baratz says. If any of this is ringing a bell, here are nine signs that you might care more about snagging a relationship than actually establishing a romantic connection.