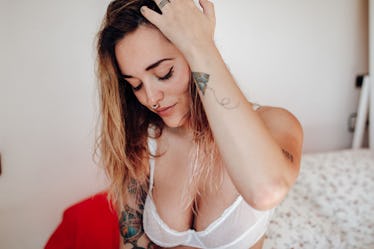 If Your Friend With Benefits Doesn't Text Back, Here's Exactly What To Do
It can be super, duper frustrating when your friend with benefits doesn't text back. First off, chances are that you're texting your FWB because frankly, you're incredibly horny. So, that sucks. (Fortunately, sex toys can solve the horniness, even though they can't make your FWB text back.) Second, it's awkward because you're left hanging. Since you're not in a committed, monogamous relationship, you really don't know where you stand with the other person. All you want to know is whether you have a consistent, sanctioned d*ck or strap-on appointment or not.
The main thing you have to keep in mind is this, marriage and family therapist Kiaundra Jackson says: "You cannot expect 'relationship behavior' from someone who does not hold that title." That is to say, whether your f*ck buddy has ghosted you for a few days or even a few weeks, there actually isn't any pressure on them to text you back because of the nature of being f*ck buddy. "The other person is not obligated to call or text you at all," Jackson says. "The agreement is sex and most times, sex only!" That being said, there are two routes you can take if your FWB isn't texting you back and it's bothering you — because it's very natural and human to be frustrated at the situation.